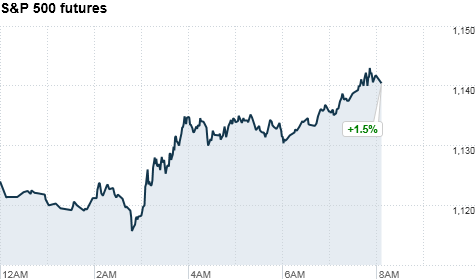 Click the chart for more premarket data.
NEW YORK (CNNMoney) -- U.S. stocks were poised for an early bounce Monday, following the biggest four-week loss since March 2009.
Dow Jones industrial average (INDU), S&P 500 (SPX) and Nasdaq (COMP) futures were up more than 1% ahead of the opening bell. Stock futures indicate the possible direction of the markets when they open at 9:30 a.m. ET.
On Friday, U.S. stocks capped a difficult week, with the S&P 500 posting its biggest four-week loss since March 2009, amid fears that the U.S. economy is heading into another recession, and ongoing concerns about Europe's debt crisis. The Dow, S&P 500 and Nasdaq fell between 4% and 6% last week.
The big event for investors this week will be on Friday, when Federal Reserve Chairman Ben Bernanke will give his keynote speech at the Kansas City Fed's annual retreat in Jackson Hole, Wyo.
"The Fed's annual gathering in Jackson Hole this year presents yet another opportunity to calibrate Chairman Bernanke's thoughts on the forces of structural weakness in the economy and the appropriate Fed policy stance over the medium term," said Marc Chandler, global head of currency strategy at Brown Brothers Harriman.
At last year's annual meeting, the Fed chief prepared the market for QE2, a policy that is widely credited for supporting stocks earlier this year.
"The legacy of last year's Jackson Hole speech means the markets will be keen to get a signal of further easing," Chandler said. "Some have already gone ahead to extrapolate the FOMC's commitment to hold rates steady at ultra-low levels past next year's elections and into mid-2013 as a form of QE."
Investors also gained some hope as rebel forces swept the Libyan capital of Tripoli, poised to topple Moammar Gadhafi's 42-year rule following six months of civil war. (CNN: Libya on the brink)
"It looks as though Gadhafi's regime is about to collapse, if it hasn't already," said Peter Cardillo, chief market economist at Rockwell Global Capital. "That's helping markets in Europe, particularly the energy sector, and also U.S. stock futures."
Cardillo said stocks will also collect some support since they have been beaten down so hard over the last several weeks.
"One thing is certain: the market is oversold and there are a lot of good bargains out there," he said. "But whether or not we'll escape the recent volatility is yet to be seen."
World markets: European stocks were higher in afternoon trading. Britain's FTSE (FTSE) 100 rose 2.5%, France's CAC (CAC) 40 gained 1.5% and the DAX (DAX) in Germany added 2.7%.
Asian markets ended mixed. The Shanghai Composite lost 0.7%, the Hang Seng in Hong Kong gained 0.5%, and Japan's Nikkei shed 1%.
Currencies and commodities: The dollar slipped against the euro and the British pound. The buck gained ground versus the Japanese yen.
Oil for October delivery gained 77 cents to $83.18 a barrel. Meanwhile, Brent crude, the European benchmark, fell $1.10, or almost 1% to $107.52 a barrel, amid hopes that Libyan oil production may soon resume.
Gold futures for December delivery rose $18 to $1,870.20 an ounce. Earlier, gold futures hit an intraday high of $1,898.60 an ounce.
Bonds: The price on the benchmark 10-year U.S. Treasury fell, pushing the yield up to 2.12% from 2.07% late Monday.