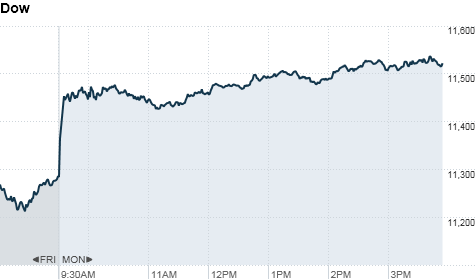 Click the chart for more market data.
NEW YORK (CNNMoney) -- Stocks rallied Monday, following a trifecta of positive news: A Greek bank deal, a solid U.S. consumer spending report and relief that Hurricane Irene caused less damage than expected.
"Irene didn't live up to the hype, and that's a huge relief," said Hamed Khorsand, analyst at BWF Financial. "It's good for insurers, but it really comes down to the broader economy. Consumers can keep going with their regular spending habits instead of being sidetracked."
The Dow Jones industrial average (INDU) added 254 points, or 2.2%, to close at 11,539. The S&P 500 (SPX) rose 33 points, or 2.8%; to 1,210. The Nasdaq Composite (COMP) gained 82 points, or 3.3%, to 2,562.
Despite the recent strength -- stocks staged a solid advance last week -- the major indexes are still in the red for the year.
In fact, August remains on track to be the worst month for stocks in more than a year. The Dow is off nearly 5%, the S&P 500 is down 6.4% and the Nasdaq is 7% lower.
Trading volume remained light Monday as the New York subway system and commuter rail services slowly return to full service.
With the weather story behind them, investors turned their attention to assessing the impact of Hurricane Irene, which was less dire than feared.
That helped lift insurance company stocks Monday. Travelers Companies Inc. (TRV, Fortune 500) rose 5%, Hartford Financial Services Group (HIG, Fortune 500) surged 13%, and Allstate (ALL, Fortune 500) shares climbed more than 8%, making the two insurers among the top gainers on the S&P 500. MetLife (MET, Fortune 500) and Chubb Corp. (CB, Fortune 500) spiked between 4% and 5%.
Investors were also keeping an eye on Europe's ongoing debt problems. Greece reclaimed the spotlight after EFG Eurobank Ergasias and Alpha Bank -- two of the country's big lenders -- announced plan to merge. That helped boost shares of the National Bank of Greece (NBG), which surged 36.5%.
"The market is energized because this deal is a sign that something is being done to help alleviate the European debt crisis," said Peter Tuz, president at Chase Investment Counsel.
Economy: Personal income rose 0.3% in July, while spending climbed 0.8% during the month. Economists were expecting income to tick up 0.4%, spending to edge up 0.5%.
Pending home sales fell 1.3% in June, according to the National Association of Realtors. Sales were expected to fall 1.4%, after rising 2.4% the prior month.
Companies: Bank of America (BAC, Fortune 500) announced that it has agreed to sell 13.1 billion shares, or half of its stake, of China Construction Bank in a private transaction for $8.3 billion. The bank's stock rose 7.8%.
Financial stocks Citigroup (C, Fortune 500), UBS (UBS) and Morgan Stanley (MS, Fortune 500) also moved higher.
Despite widespread flight delays stemming from the storm, shares of major airlines were higher.
Jetblue (JBLU), Southwest (LUV, Fortune 500), AMR Corp., (AMR, Fortune 500) Delta (DAL, Fortune 500) and United Continental (UAL, Fortune 500) were all up between 5% and 7%.
World markets: European stocks ended higher. The DAX (DAX) in Germany rose 2.4% and France's CAC (CAC) 40 climbed 2.2%. Britain's FTSE (FTSE) 100 was closed for a holiday.
Asian markets ended the session mixed. The Shanghai Composite (SHCOMP) lost 1.4%, the Hang Seng in Hong Kong (HSI) added 1.4% and Japan's Nikkei (N225) rose 0.6%.
Currencies and commodities: The dollar fell against the euro and the British pound. The buck gained ground versus the Japanese yen.
Oil for October deliver added $1.90, or nearly 2.2%, to settle at $87.27 a barrel.
Gold futures for December delivery fell $5.70 to close at $1,791.60 an ounce.
Bonds: The price on the benchmark 10-year U.S. Treasury fell slightly, pushing the yield up to 2.27% from 2.19% late Friday.