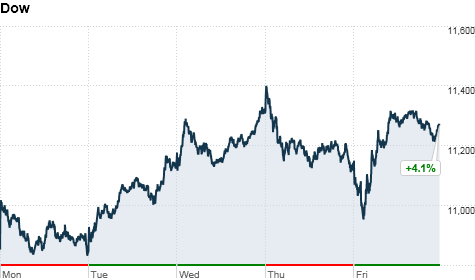 Click the chart for more market data.
NEW YORK (CNNMoney) -- Stocks saw a Ben Bernanke-fueled rally Friday, even though the Fed Chief warned that the economy continues to remain weak in the short term.
Bernanke did not lay out or allude to any new plans to introduce more stimulus measures, but investors said they believe the Fed is in "wait and see" mode.
The Dow Jones industrial average (INDU) rose 135 points, or 1.2%, to close at 11,285. The index had been down more than 200 points earlier in the day.
The S&P 500 (SPX) added 18 points, or 1.5%, to 1,180 and the Nasdaq Composite (COMP) gained 60 points, or 2.5%.
Tech stocks led the way. Dow members Microsoft (MSFT, Fortune 500) and Intel (INTC, Fortune 500) were up more than 2%, while the S&P 500 was led higher by shares of Electronic Arts (ERTS), Dell (DELL, Fortune 500) and Nvidia (NVDA).
It was a solid week for Wall Street, with the Dow and the S&P gaining more than 4%, and the Nasdaq climbing 5.7%. It ends what had been a four-week losing streak for stocks.
In his Friday morning speech, Bernanke made no reference to the Fed introducing additional measures to boost economic growth, noting that such moves may have to come from bodies outside of the Fed's control, like Congress.
The only notable action that Bernanke took was announcing the Fed would expand its September meeting from one day to two days. Investors took that as a sign that the central bankers need more clarity about the economy's actual condition and nothing -- including another round of quantitative easing -- was off the table.
"It looks like they're open to doing QE3, but they're going to wait for more data before taking action," said Quincy Krosby, market strategist with Prudential Financial. "It's only been a few weeks that the recent economic data has been bad."
Anticipation had been high going into the speech. At last year's meeting, Bernanke prepared the market for QE2 -- or quantitative easing, the second round of Fed bond buying that is widely credited for supporting stocks earlier this year.
Meanwhile, as Hurricane Irene makes its way up the East Coast toward New York City, exchanges are prepared to resume trading as usual Monday.
"We have contingency plans in place for such events, with the goal of having the market up and running while ensuring the safety of our people," said a spokesman from NYSE Euronext, the parent of the New York Stock Exchange.
New York City Mayor Michael Bloomberg announced a mandatory evacuation of some parts of the city, effective Saturday. NYC subways, trains and buses will also be shut down this weekend.
The NYSE was closed for a day in September 1985, when the eye of Hurricane Gloria hit western Long Island, New York.
Bonds: The price on the benchmark 10-year U.S. Treasury rose slightly, pushing the the yield down to 2.20% from 2.22% late Thursday.
Economy: The Commerce Department said the U.S. economy grew at a revised annual rate of 1% during the second quarter, down from a previously reported 1.3%.
The University of Michigan's consumer sentiment survey came in slightly better than expected at a reading of 55.7, up from the multi-year low of 54.9 reported two weeks ago.
Companies: Tiffany's (TIF) stock jumped 9%, after the luxury jeweler posted higher-than-expected earnings and sales for the second quarter.
Insurance stocks such as Allstate Corp., (ALL, Fortune 500) Travelers Cos (TRV, Fortune 500)., MetLife (MET, Fortune 500) and Chubb Corp. (CB, Fortune 500) were mixed as the East Coast braced for Hurricane Irene.
Shares of Pandora (P) climbed 7%, as second-quarter revenue spiked 117% to $67 million -- beating analysts' forecast for $61 million. But the online radio company's stock is off almost 17% from where it debuted in June.
Halliburton (HAL, Fortune 500) is on a hiring spree this year. The company is planning to create as many 15,000 jobs globally, including 11,000 in North America, according to a statement released late Thursday. Shares rose 4%.
Currencies and commodities: The dollar fell against the euro, the Japanese yen and the British pound.
Oil for October delivery rose 13 cents to $85.42 a barrel.
Gold futures for December delivery jumped $34.10 to $1,822.60 an ounce.
World markets: European stocks closed lower on Friday. Britain's FTSE (FTSE) 100 fell less than 0.1%, the DAX (DAX) in Germany dropped 0.8% and France's CAC (CAC) 40 lost 1%.
Asian markets ended the session mixed. The Shanghai Composite (SHCOMP) edged 0.1% lower and the Hang Seng in Hong Kong (HSI) shed 0.9%, while Japan's Nikkei (N225) added 0.3%.