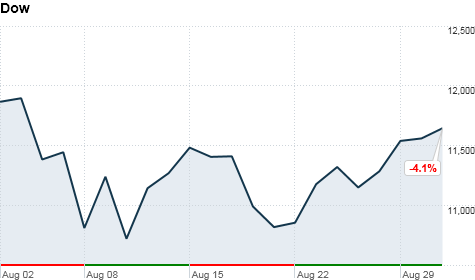 Click the chart for more market data.
NEW YORK (CNNMoney) -- It was a brutal August, but at least Wall Street ended modestly higher on its last day as investors on Wednesday digested several economic reports on the labor market and manufacturing.
Preliminary tallies show the Dow Jones industrial average (INDU) closed up 54 points, or 0.4%, to 11,614; the S&P 500 (SPX) was up 6 points, or 0.6%, to 1,219; and the Nasdaq Composite (COMP) rose 3 points, or 0.1%, to 2,579.
The Dow was led higher by shares of Alcoa (AA, Fortune 500), up more than 3% following two strong reports on factory orders and the Chicago purchasing managers' index.
But shares of AT&T (T, Fortune 500) dropped nearly 4% following news that the U.S. Justice Department had filed an antitrust suit to block the telecommunications giant's proposed buyout of T-Mobile. Sprint (S, Fortune 500) shares jumped 7% on the news as well.
"The lawsuit is only going to reinforce the opinion among investors that government has been nothing but roadblock in the recovery instead of an aid in the recovery," said Michael James, senior equity trader with Wedbush Morgan Securities.
Economic data was front and center yet again on Wednesday, this time with the focus on the labor market.
Challenger, Gray & Christmas said the number of planned job cuts fell 23% in August. And private-sector payrolls rose by 91,000 in August, according to payroll processor ADP. Economists were expecting the private sector to hire 100,000 new workers during the month, down from the 109,000 in the prior month.
The two reports come ahead of Friday's highly anticipated August jobs report. A CNNMoney survey of 17 economists forecasts that the U.S. economy added 80,000 jobs, and the unemployment rate remained at 9.1% in August.
Today marks the end of what has been one of the worst months for stocks in over a year.
"We got to this point where we were expecting Armageddon, so anything less than that is good news right now," said Bruce McCain, chief investment strategist with Key Private Bank.
Investors battled through nauseating volatility throughout August, starting with the debt ceiling debate. However, most of this month's turmoil was spurred by Standard & Poor's downgrade of the U.S. credit rating on Aug. 5. That acted as the catalyst for two weeks of wild swings as investors feared the U.S. would tip back into a recession.
In all, stocks fell sharply for the month. The Dow lost 4.4%, while the S&P 500 and Nasdaq fell 5.7% and 6.4%, respectively.
Stocks ended Tuesday with modest gains following the latest Fed minutes, which suggested the central bank will announce new steps to spur economic growth, even as early as next month when it convenes for a meeting on monetary policy.
"The focus will not be whether there will be a policy response but rather the debate centers around what form -- QE, duration shifts or a cut in rate received on excess reserves -- and when," said Marc Chandler, global head of currency strategy at Brown Brother Harriman.
Economy: In other economic data, the Commerce Department said June factory orders jumped 2.4%, much better than the 1% decline that economists were are looking for.
The Chicago purchasing managers index dropped to a reading of 56.5 in July compared with a reading of 58.8 the month before. However the number was well above the forecasted reading of 53.0 that economists had expected.
Companies: Shares of Exxon Mobil (XOM, Fortune 500) edged up 1% after the company announced late Tuesday that it has entered into a partnership with Russian oil giant Rosneft. The deal gives Exxon Mobil access to vast Arctic oil deposits and Rosneft a leg up in cutting-edge oil technology.
Bank of America (BAC, Fortune 500) shares rose 1% after The Wall Street Journal reported that the bank is looking to sell its correspondent mortgage business.
Shares of Oracle (ORCL, Fortune 500) were up 2% despite another report in the Journal that said U.S. government authorities are investigating the software giant's business practices in Africa.
World markets: European stocks posted solid gains on Wednesday. Britain's FTSE (FTSE) 100 gained 1.9%, the DAX (DAX) in Germany added 2.3%and France's CAC (CAC) 40 increased 2.7%
Asian markets ended the session ended higher. The Shanghai Composite (SHCOMP) and Japan's Nikkei (N225) were only slightly higher, while the Hang Seng (HSI) in Hong Kong spiked 1.6%.
Currencies and commodities: The dollar edged higher against the euro, and the British pound, but the greenback was lower versus the Japanese yen.
Oil for October delivery fell 14 cents to $88.69 a barrel.
Gold futures for December delivery added $1.90 to $1,831.70 an ounce.
Bonds: The price on the benchmark 10-year U.S. Treasury rose slightly, pushing the yield down to 2.17% from 2.18% late Tuesday.