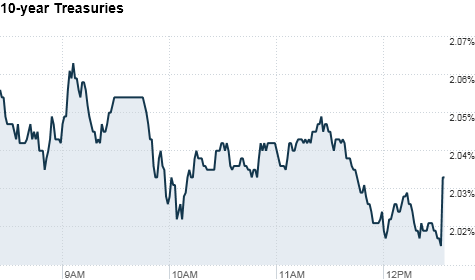 10-year Treasuries fall following Fed announcement. Click chart for more Treasuries data.
NEW YORK (CNNMoney) -- Investors stayed in risk mode Wednesday after Federal Reserve announced that it would leave rates near zero and carry on with Operation Twist.
Investors continued buying stocks and selling out of Treasuries, which are typically considered "safe havens" during times of uncertainty.
The Fed said that economic growth strengthened in the third quarter yet offered a subdued outlook for inflation, citing continued weakness in the labor markets. In addition to continuing Operation Twist, its plan to buy more longer-term Treasuries, the Fed also said it would continue to buy mortgage-backed securities.
Prices on the benchmark 10-year Treasury note continued their fall after the Fed's announcement Tuesday, causing yields to rise to 2.04%. Yields are above recent lows, but still far below levels seen during so-called normal times.
Yields had been edging lower this week as investors moved out of stocks amid fears about Greece and possible contagion from the bankruptcy of MF Global (MFGLQ).
With few changes in monetary policy on tap, investors will be anxiously awaiting any indication that the Fed might consider another round of quantitative easing if economic conditions worsen. That indication could come when Fed chairman Ben Bernanke holds a news conference at 2:15 p.m. ET.
Any indications that Bernanke offers on the state of the economy could move the markets later Wednesday.
"We think they'll say that they are in a wait and see mode," said Kate Warne, chief investment strategist at Edward Jones.
For much of the past week, bonds have largely been trading on expectations over what could happen in Europe with investors less focused on the U.S. economy and monetary policy.