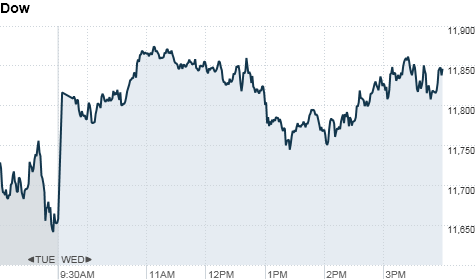 Click the chart for more stock market data.
NEW YORK (CNNMoney) -- U.S. stocks finished sharply higher Wednesday afternoon, snapping back from two days of steep declines.
Investors read the Federal Reserve's latest policy statement and remarks by Chairman Ben Bernanke as a commitment to continue to help the economy.
The Dow Jones industrial average (INDU) surged 178 points, or 1.5%, S&P 500 (SPX) added 20 points, or 1.6%, and the Nasdaq composite (COMP) increased 33 points, or 1.3%.
Bank shares were among the biggest gainers in the rally. A 5% jump in Bank of America (BAC, Fortune 500) shares led the Dow's advance, while JPMorgan Chase (JPM, Fortune 500), Morgan Stanley (MS, Fortune 500), Goldman Sachs (GS, Fortune 500) and Citigroup (C, Fortune 500) were all more than 2% higher.
The rebound wasn't that unexpected, given the indexes 5% drop over the past two days. "Stocks dropped a bit too far too fast, so this is a reflex rally," said Fred Dickson, chief market strategist at D.A. Davidson & Co.
Stocks got an afternoon boost following Fed chairman Ben Bernanke's press conference. While the Fed trimmed its economic growth outlook to between 1.6% and 1.7% for 2011, Bernanke also reiterated that the Fed has "the tools to do more" and is "prepared to take further action" to sustain the economic recovery.
"Bernanke left the door open to further stimulus, but of course, things would have to get worse for the Fed to act," said Peter Cardillo, chief market economist at Rockwell Global Capital.
So even though another round of bond buying purchases, or QE3, may not be right around the corner, at least it's still an option for the Fed, and that's encouraging to investors, said Cardillo.
Investors also continued to watch developments in Greece with a cautious eye.
On Tuesday, new fears about the fate of the European rescue plan reverberated through stock markets in the United States and around the world. U.S. stocks ended sharply lower across the board, with bank stocks hit especially hard.
The bad news was propelled by Greek Prime Minister George Papandreou's surprise announcement that he would put his country's participation in last week's European debt plan to a voter referendum. Late Tuesday, Greece's cabinet voted to hold a referendum.
But as heads of state descend on Cannes, France, for this week's G-20 summit, investors remain skittish about placing any big bets. Several high profile meetings about how to handle the turmoil in Europe and Greece are taking place Wednesday, a day ahead of the summit's official kick-off.
"All eyes are still on Greece," said Dickson. Given the public outcries against the austerity measures, Dickson said the referendum could result in a "no" vote, forcing European leaders back to the drawing board for a new plan and triggering increased market volatility.
"We're in the middle of this European drama, but we don't know whether this is a three, four or five act play," said Dickson. "And now, Italy is also moving to center stage."
Economy: ADP reported a jump in private-sector payrolls in October and revised its previous month higher. ADP's new September figure showed an increase of 116,000 jobs, up from the earlier report of 91,000.
Separately, a jobs report from outplacement consulting firm Challenger, Gray & Christmas showed planned layoffs dropped 63% to 42,759 in October from the prior month.
The two reports stack up ahead of the government's monthly jobs report due on Friday. Economists surveyed by CNNMoney expect that employers added 98,000 jobs in October, keeping the unemployment rate steady at 9.1%.
Companies: Sony (SNE) shares fell after the company posted results that fell short of analysts' expectations. The electronic maker's loss was attributed to the decline to the flood in Thailand and lack of demand for its LCD TV.
Time Warner (TWX, Fortune 500), the parent company of CNNMoney, beat analysts' expectations, but shares declined slightly. Comcast (CMCSA, Fortune 500) and Mastercard (MA, Fortune 500) shares rose on a healthy rise in earnings. Kraft Foods (KFT, Fortune 500) will report its quarterly earnings after the market close.
Shares of MF Global (MFGLQ) plunged more than 80% on the Pink Sheets, which allow for trading in certain stocks that are not listed on an exchange or the Nasdaq. Trading of MF Global (MF) on the New York Stock Exchange was halted on Monday when the firm was forced into bankruptcy.
World markets: European stocks closed higher. Britain's FTSE 100 (UKX) rose 1.1%, the DAX (DAX) in Germany edged up 2.1% and France's CAC 40 (CAC40) gained 1.5%.
Asian markets ended mixed. The Shanghai Composite (SHCOMP) rose 1.4% and the Hang Seng (HSI) in Hong Kong added 1.9%, while Japan's Nikkei (N225) fell 2.2%.
Currencies and commodities: The dollar lost strength against the euro and the Japanese yen, but rose slightly versus the British pound.
Oil for December delivery rose 32 cents to settle at $92.51 a barrel.
Gold futures for December delivery rose $17.80 to settle at $1,729.60 an ounce.
Bonds: The price on the benchmark 10-year U.S. Treasury were slightly lower, pushing the yield up to 2.01% from 2% late Tuesday.