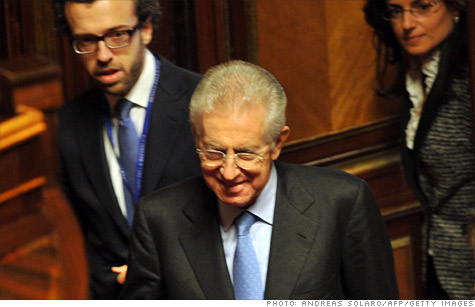 Traders in Italian bonds have plenty of news to chew on, like the expected appointment of former EU commissioner Mario Monti as the new prime minister.
NEW YORK (CNNMoney) -- Italian borrowing costs continued to ease Friday, giving investors hope that Italy is finally starting to make some progress toward addressing its massive debt problems.
Yields on Italian 10-year bonds were trading at 6.5% Friday, after dipping as low as 6.43%. While that's still stubbornly above 6%, it's finally moving in the right direction.
A big part of that is thanks to the European Central Bank's recent bond buying efforts and two decent auctions.
The ECB won't say how much it bought until Monday, when it releases its weekly bond buying report. Last week, the central bank bought a total of €9.5 billion of bonds, according to its website, though it doesn't specify which countries issued the bonds.
It's imperative to keep Italy's 10-year bond yields well below 7% because that was the level that eventually led to bailouts for Ireland, Portugal and Greece.
"Yes, it's good news that Italian yield spreads have come down, but it's about stopping contagion generally as well," said John Stopford, head of fixed income at Investec Asset Management in London. "In the long term, yields probably have to stabilize closer to 5%."
Italy is the biggest bond issuer in Europe and the eighth-largest economy in the world.
Currently, Italy also possesses a massive gross debt of roughly €1.9 trillion, and a debt to GDP ratio of 120%. The country is widely considered to be too big to fail. But it may also be too big to bail.
It may not come to that. On Friday, the Italian Senate voted in a new series of cost-cutting austerity measures, paving the way for a new government to take over.
Scandal-plagued Italian Prime Minister Silvio Berlusconi pledged to resign after the budget was passed, which could come as soon as Saturday, when Italy's lower house of Parliament is expected to vote on the budget.
There's been growing support for former EU commissioner Mario Monti to take the helm. Monti has a reputation as a hard-working, intellectually rigorous technocrat.
European stocks rallied, with London's FTSE100 (UKX) gaining 1.9%, France's CAC40 (CAC40) rising 2.8% and Germany's DAX (DAX) surging 3.8%.
Stopford said that all eyes will be on the ECB's bond buying tally Monday morning.
"Whether it's shock and awe or maybe slightly more than they've done in recent weeks, we have to wait and see," said Stopford. "That will tell us about how committed they are to keeping yields down. Finding out exactly how much the ECB has bought and whether that's a material increase is likely to be an important driver of sentiment."