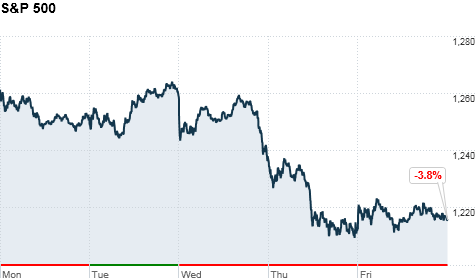 Click chart for more markets data.
NEW YORK (CNNMoney) -- Investors have a litany of questions for politicians in Europe and on Capitol Hill. And it's unlikely that they'll get many answers ahead of the Thanksgiving holiday next Thursday.
One major issue is whether the European Central Bank will start aggressively buying the sovereign debt of Spain, Italy and even France to stop the bondholder bleeding and woo buyers back into the EU bond markets.
Investors will also watch to see if members of Congress's so-called supercommittee can agree on tax and budget cuts ahead of this week's deadline.
Additionally, investors will get at least one key data point to gauge whether the US is indeed moving away from a possible double-dip recession: weekly initial jobless claims.
That figure will come out on Wednesday instead of Thursday due to the holiday, and a number below 400,000 could boost the markets, or at least partially offset any negative headlines out of Europe.
"The most important thing for the economy is jobs," said Paul Zemsky, head of asset allocation at ING Investment Management. "The numbers continue to improve. If we can get one more good number below 400,000, it will cement the trend."
Still, investors are well aware that if the contagion from the sovereign debt crisis in Europe continues to spread, it could quickly thwart a turnaround in the US economy.
Investors will be continuing to watch bond yields around Europe. Yields on 10-year Italian bonds edged above 7%, a level that Ireland and Portugal hit just before requiring bail outs by the European Union and International Monetary Fund. Spanish bond yields hovered perilously close to that level this week.
Those yields were enough to keep all indexes down for the week, despite several positive reports highlighting an expanding US economy.
The Dow Jones industrial average (INDU) finished the week down 2.9%, and the Nasdaq (COMP) slid nearly 4%. The S&P 500 (SPX) lost 3.8%.
Investors will be watching to see whether Congress' Supercommittee can find ways to cut the budget, but a failure to do so shouldn't rattle the markets. Congress will be forced to make automatic cuts if they can't come to an agreement. That should insulate the U.S. from another potential ratings agency action.
"There's a certain degree of skepticism priced into the market, as investors believe that Congress will take the path of least resistance," said Guy LeBas, head of fixed income at Janney Montgomery Scott.
Ahead of the Thanksgiving holiday Thursday, it will be a relatively light week for third quarter earnings. Investors will focus mainly on whether the troubled computer firm Hewlett-Packard (HPQ, Fortune 500) will show signs of life when it reports third quarter earnings Monday. Campbell' (CPB, Fortune 500)s soup will report Tuesday.
Data on existing home sales will be released Monday, and in addition to the initial jobless claims report on Wednesday, orders for durable goods and the final reading on consumer sentiment will be released.
Hibah Yousuf contributed to this report