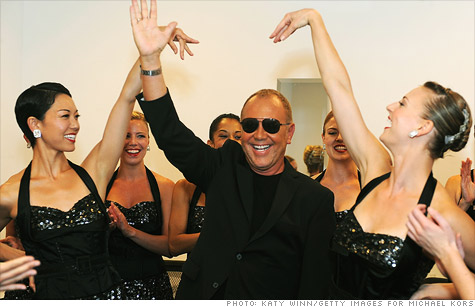 Michael Kors is his company's chief creative officer and a judge on Project Runway.
NEW YORK (CNNMoney) -- Shares of luxury retailer Michael Kors closed Thursday up 21% in its debut on the New York Stock Exchange under the ticker KORS (KORS).
After pricing its initial public offering at $20 a share, above its estimated range of $17 to $19 a share, the fashion brands shares closed at $24.20 per share.
The offering raised $944 million for the retailer, after it sold 47.2 million shares to the public.
Shares of Michael Kors, which began trading Thursday under the ticker KORS (KORS), moved as high as $25.23 on opening day.
The IPO gives the company a market value of roughly $1.18 billion. At its current size, it's a smaller competitor to luxury retailers like Ralph Lauren (RL, Fortune 500) valued at $12 billion or Burberry valued at roughly $5 billion.
Michael Kors' IPO eclipsed the size of Ralph Lauren's public debut, which raised $767 million in 1997. According to IPO investment advisor Renaissance Capital, it's the largest fashion IPO, since the firm started collecting data in 1995.
The key to brand's long-term growth trajectory is whether it can remain a favorite in the "affordable luxury" category similar to Coach (COH), said Howard Dawidowitz, chairman of Davidowitz & Associates, a retail consulting and investment banking firm. Both companies price average hangbags in the $200 to $400 range, generating steep margins on the items compared to other retail offerings. The bags are a splurge, but a do-able one for many consumers.
Kors generated roughly $57.7 billion in accessories between 2005 and 2010, roughly 25% of the industry's total sales, the company said in its prospectus filed in early December. It estimates that the market for luxury goods will expand 7% a year through 2014 making it a $306 billion industry.
"Kors is not too far out on the fashion curve," said Davidowitz. "There's a timeless value to it so there's less risk."
If Kors does follow Coach's lead in the public markets, the stock could prove a lucrative purchase for investors both over the near and long-term. Coach's shares are up 3.3% this year and 38% over the past five years compared to the S&P 500 (SPX) down 2.4% and 15% during the same time periods.
Michael Kors is the clothing line named for the company's founder and chief creative officer. Already well-known in fashion circles, Michael Kors has achieved an added degree of celebrity by serving as a judge on Project Runway for the last five years.
The Michael Kors IPO comes in the middle of a busy week of initial public offerings as companies scramble to file before the end of the year. Jive Software (JIVE) gained 25% in its first trading day Tuesday.
Zynga, one of the year's most-anticipated offerings, is expected price its IPO after the bell and begin trading Friday.
Other big tech IPOs this year include LinkedIn (LNKD), Groupon (GRPN), Pandora (P) and Zillow (Z).