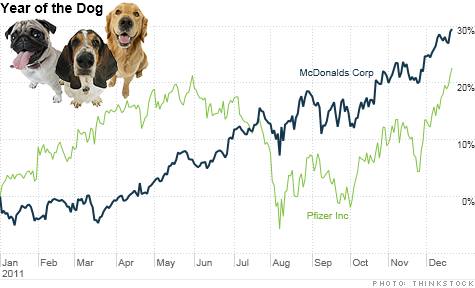 McDonald's and Pfizer -- two so-called Dogs of the Dow from 2010 -- were the top performing Dow stocks in 2011 as investors embraced companies that pay big dividends.
NEW YORK (CNNMoney) -- The stock market this year was for the dogs. And that's a good thing.
If you followed the so-called Dogs of the Dow strategy at the beginning of the year and bought the 10 Dow components that had the highest dividend yields at the end of last year, you'd be wagging your tail with excitement.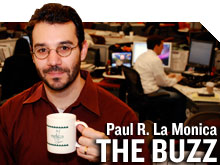 The ten highest-yielding Dow stocks of 2010 were up, on average, 10.8% this year through Wednesday, according to figures from Thomson Baseline. The Dow (INDU) overall was up 4.6%.
And when you factor in the juicy dividends, the results are even better. The Dow Dogs have had an average total return of 14.9% versus a return of 7% for the entire Dow 30.
The success of this year's pooches was led primarily by McDonald's (MCD, Fortune 500) and Pfizer (PFE, Fortune 500). They are the two best-performers in the Dow this year.
But fellow canines Verizon (VZ, Fortune 500), Kraft Foods (KFT, Fortune 500), Intel (INTC, Fortune 500) and Chevron (CVX, Fortune 500) have also returned at least 15%. In fact, the only Dow Dog you would have lost money on is DuPont (DD, Fortune 500). (AT&T (T, Fortune 500), Merck (MRK, Fortune 500) and Johnson & Johnson (JNJ, Fortune 500) were the other three market mutts.)
It shouldn't come as a huge surprise that these stocks performed so well this year.
With the markets getting whipped around like a Tilt-a-Whirl in 2011 on fears about the European sovereign debt crisis, many investors have pulled a Linus Van Pelt and held tight to stable blue chip stocks that generate income like they were a blue security blanket.
But can the Dogs of the Dow be winners again in 2012? As of right now, 8 of this year's Dogs will remain so next year. McDonald's and Chevron currently don't make the cut and would be replaced by Procter & Gamble (PG, Fortune 500) and General Electric (GE, Fortune 500).
However, it's too soon to say for certain which ten companies will make the final list. You might want to expand the Dogs list to a baker's dozen since Microsoft (MSFT, Fortune 500), JPMorgan Chase (JPM, Fortune 500) and Chevron all have dividend yields that are only slightly below Kraft's 3.1%.
Still, if you believe that the market in 2012 will behave much like 2011, then the Dow Dogs are probably a safe bet.
Many experts are predicting more volatility since Europe's problems cannot be solved immediately --- no matter how many more EU summits there are. (If you're keeping score at home, the next EU confab is set for January 30.)
There could be more political uncertainty in the U.S. as well as next year as Congress and President Obama continue to bicker over the deficit and refuse to do anything that could stimulate the economy in the short-term.
And in case you forgot, 2012 is a critical election year. Campaigning is likely to take precedence over governing.
Finally, the U.S. economy, despite some encouraging signs in the job and housing markets lately, is not likely to grow at a breakneck pace next year either.
Add all that up and you have a perfect recipe for long-term Treasury yields to remain super low The 10-year currently is below 2%. That's not very attractive for anyone looking for steady income.
So high-yielding stocks may continue to be popular with conservative investors. The average dividend yield for the 10 Dow stocks that would currently make up 2012's Best in Show list is 4%!
Sure, some of the individual Dow puppies may be better off in the pound than your portfolio.
AT&T may struggle now that it's plan to buy T-Mobile is dead. The slew of disappointing earnings outlooks from big tech companies may not bode well for Intel or Microsoft.
And as long as Europe remains in the headlines, you'd be hard-pressed to find an investor that will have much confidence in JPMorgan Chase or other big banks. (An alternative look at Dow Dogs focusing on performance instead of dividends would include Bank of America (BAC, Fortune 500). Its stock has plunged 60% in 2011. That's scarier than Cujo!)
But if the global economy continues to be lackluster, the Dogs of the Dow and other big dividend-paying stocks will likely have their day again in 2012.
Best of StockTwits: Maybe Frank the Tank didn't have enough time? Bed Bath & Beyond's (BBBY, Fortune 500) outlook disappointed investors and the stock took a big hit Thursday.
ukdaytrader: $BBBY going to get hammered with earning growth tailing off does not deserve current pe.
Not so sure I agree. Yes, the results were a little soft. But it's now trading at 13 times fiscal 2013 earnings estimates. That's more expensive than, say, Macy's (M, Fortune 500). But it's cheaper than the 15 times forecasts for Williams-Sonoma (WSM).
katetrades: $BBBY getting smacked. In this market, you pay for any level of failure big time. All in all, they didn't miss that badly.
True. Just ask Oracle (ORCL, Fortune 500).
Retail_Guru: Bed Bath cash 10.4% of cap; margins up for home giant; stock cheap ex cash, opening down despite estimate lift. Whats not to like? Buy $BBBY.
firstadopter: @Retail_Guru $BBBY stock is near 52 week highs (high expectations priced in) and y/y samestore comps decelerated a bit vs. last quarter
Emphasis on "a bit." Retail_Guru makes a great point. This is more about missing a very high bar as opposed to a sign that the company is in trouble. There's a big difference between BBBY and BBY (BBY, Fortune 500) for example. Best Buy is struggling. This may be merely a slight hiccup for Bed Bath & Beyond.
The opinions expressed in this commentary are solely those of Paul R. La Monica. Other than Time Warner, the parent of CNNMoney, and Abbott Laboratories, La Monica does not own positions in any individual stocks.