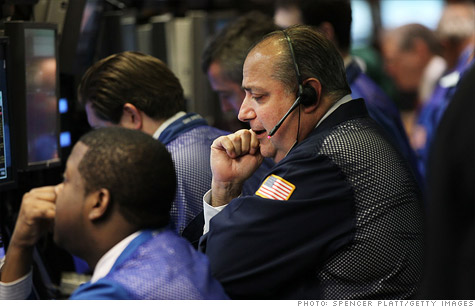 Trading volumes are at their lowest levels since 2007, hurting brokerage firms dependent on commissions.
NEW YORK (CNNMoney) -- The 2012 surge in the stock market hasn't been positive for everyone on Wall Street: Hundreds of small brokerage firms on death watch.
Trading volumes and commissions are at their lowest levels since 2007. And so far this year, three small but well-known brokerage firms have already had to call it quits.
The swift unwinding of WJB Capital Group, Ticonderoga Securities and Kaufman Brothers has left investors to wonder who's next. Representatives from WJB, Ticonderoga, and Kaufman did not return calls for comment.
"When some of these firms start to have problems, everyone starts looking for the next one," said Robert Moore, CEO of Concept Capital, a brokerage firm headquartered in Garden City, New York. "It causes institutions that trade with these firms to wait and see before trading with them."
For some small boutique trading firms, that crisis of confidence could prove fatal. Most of these firms generate revenues solely from commissions on each trade and from providing proprietary research reports to clients.
Customers who get wind of a potentially troubled brokerage firm often stop executing trades with them and wait to pay for research.
"Institutions start to say, 'why would I give my commissions dollars to a firm that might not be here in three months? I'll wait and maybe go back to them in October or November'," said Moore.
Ron Suber, head of prime brokerage at Merlin Securities, said he's seen a flood of resumes from employees at small trading firms who are worried about their employer's health.
In the fourth quarter, most investment banks saw revenue from stock trading drop about 20%, but, unlike boutique brokerages, these larger financial institutions have other ways to make money.
Currently, there are 4,066 brokerages with fewer than 150 traders, according to brokerage regulator Financial Industry Regulatory Authority (FINRA). Because of their small size, those are the ones in the most precarious position.
Unlike MF Global, none of the recently defunct brokerages actually held clients' funds in so-called custodial accounts, so the primary repercussions for these smaller trading firms is the loss of a valued trading partner and access to proprietary research.
While some small and midsize brokerage firms like Raymond James (RJF), Sterne Agee and Stifel Financial (SF) might actually pick up some volume from these firms closing, the fall of small brokerages is yet another sign that Wall Street is shrinking.
"Volume will gravitate toward someone. You're just going to have fewer players in the marketplace," said Moore.
It's unclear where Wall Street might find an equilibrium between traders and brokerages. And it's too soon to tell whether volumes will be depressed for a long time or whether investors will become less skittish and move en masse back into stocks.
"At some point we have to get confidence back into the equity markets," said Moore. "Volumes will come back up, and a lot of things will come back into place."
But we're not there yet.