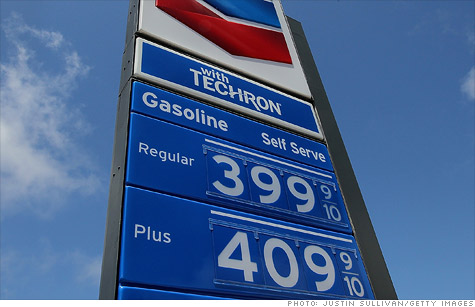 Gas prices are getting dangerously close to $4 -- a level not seen since mid-2008.
NEW YORK (CNNMoney) -- Gas prices are surging, and quickly headed toward $4 a gallon, as growing tensions over Iran sparks a run-up in oil prices.
The national average price for a gallon of gasoline jumped 3.3 cents overnight, to $3.612, according to the motorist group AAA. That's the 16th consecutive increase.
In many locations across the nation, prices are already considerably higher, with many gas stations in New York and California already selling gas for $4 a gallon or more. Hawaii leads the way, with gas prices topping an average $4.247. Overall, prices are up 10% from the start of the year.
Oil prices spiked this week after Iran's oil ministry said that it would stop exporting oil to French and British companies, in reaction to sanctions from the European Union and the United States.
U.S. crude prices edged up 0.6% to $106.95 a barrel Thursday, after climbing nearly 7% over the last month.
Brent crude -- Europe's benchmark -- gained 0.2% to $123.09 a barrel. U.S. gasoline prices are closely tied to Brent, with many U.S. refineries using imported oil to produce gas, especially on the East Coast.
Gasoline prices typically track fluctuations in oil prices, which can take days or weeks to sink in. But Joe Stanislaw, independent senior advisor at Deloitte, said that world events like the situation in Iran can also have a near-instantaneous impact on gas prices at the pump.
Worries about Iran's nuclear plans were heightened after inspectors with the International Atomic Energy Agency were blocked by Iranians from checking out a military base in Parchin. The inspectors have been investigating whether Iran is developing nuclear weapons.
An "ugly situation is inevitable" with Iran, said Peter Beutel of energy risk management firm Cameron Hanover
"The IAEA is leaving empty handed after this two-day impasse," he said. "The feeling is that we've now crossed the Rubicon."
Iran has a civilian nuclear testing program. And Israel could be considering a military attack on Iran over its possible testing of nuclear weapons, though that has not been confirmed.
Iran produces 2.2 million barrels of oil per day. More importantly, the nation's leaders have threatened to block the Strait of Hormuz. One-fifth of the world's oil production, or 17 million barrels, flows through the strait every day.
Manouchehr Takin, senior petroleum analyst at the Center for Global Energy Studies in London, said that Iran is one of many factors influencing oil prices, including signs of resurgence in the U.S. economy, particularly the job market.
"Worry about Iran and the Middle East, turmoil in Nigeria, Sudan and Yemen are thought to have been some of the causes, as well as the perception of improvements in the US economy and the cold weather [in Europe] in previous weeks," said Takin.