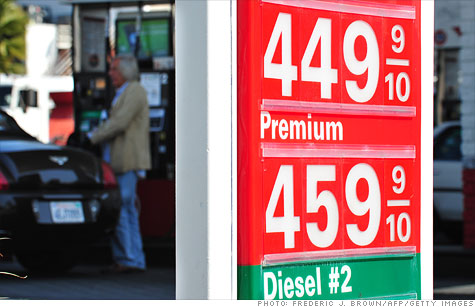 Gas prices continue to climb, topping $4 in some U.S. cities.
NEW YORK (CNNMoney) -- The nationwide average for gasoline prices surged Saturday, approaching the $3.76-a-gallon mark, according to the motorist group AAA.
The average price of regular unleaded gasoline climbed 1.6 cents in the latest 24-hour period, marking the 25th straight increase, AAA said. A month ago, the nationwide average was $3.46 a gallon.
The average price remains 35.7 cents, or about 9%, below the record high of $4.114 set on July 17, 2008.
Average prices for regular gasoline top $4 a gallon in California, Alaska and Hawaii. At $4.37 a gallon, Hawaii ranks as the nation's high. Prices are within a nickel of the $4 mark in New York, Connecticut and Oregon, according to AAA.
Wyoming has the nation's lowest gas prices, averaging just below $3.20 a gallon.
Gas prices have been rising on the back of soaring oil prices, which have surged 10% over the past month amid fears that tensions with Iran will lead to an all-out war that causes a disruption in oil supplies.
Signs of an improving economy have also boosted oil prices, as has the stock market. All three major indexes hit multi-year highs this week, and the S&P 500 (SPX) has risen by more than 8% in 2012.
But some economists worry that high gas prices could be the tipping point that brings on a new economic downturn. "I don't think for a minute consumer confidence levels can be sustained in the face of sustained high gas prices," said Bernard Baumohl, head of the Economic Outlook Group, a Princeton, N.J., research firm.
As gas prices soar, Republican presidential candidates have tried to tie President Obama's policies to the increase.
On Thursday, Mitt Romney said Obama "should be hanging his head" over his energy policies and accused the president of slowing domestic production. Romney advocated opening federal lands to drilling and easing regulations on fracking, a controversial policy that involves pumping water into rocks to harvest gas.
Also on Thursday, Obama delivered a speech in New Hampshire that stressed that domestic oil and gas production is at its highest point since 2003. But he also emphasized the need to develop new energy sources, as domestic production alone is not enough to keep up with U.S. demand.
The president called on Congress to end the $4 billion in subsidies to the oil industry so as to better incentivize companies to seek out clean-energy technologies.