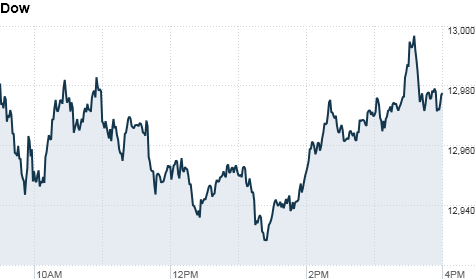 Click for more market data.
NEW YORK (CNNMoney) -- Stocks closed modestly lower Friday, with the Dow snapping a two-week winning streak, as investors turned their focus to developments in Europe with little other news to chew on.
The Dow Jones industrial average (INDU) fell 3 points, or less than 0.1%, to end at 12,977. The S&P 500 (SPX) slipped 4 points, or 0.3%, to 1,369. The tech-heavy Nasdaq (COMP) shed 13 points, or 0.4%, to 2,976.
For the week, the Dow lost 4 points, marking the first weekly decline for the index in three weeks.
Despite Friday's retreat, the S&P 500 and Nasdaq both finished higher for the fourth straight week.
Overall, the major indexes are on a roll this year, with the Dow and S&P 500 near their highest levels since the summer of 2008. The Nasdaq is near its highest point since December 2000.
"Stocks have had a pretty sharp, uninterrupted run for the past couple of months, so it's no surprise to see traders coming in to take some profits and hear people talking about how the market needs a correction," said Timothy Ghriskey, chief investment officer at Solaris Asset Management.
But Ghriskey says the market has a lot more to gain, particularly with supportive factors like low valuations, high dividends, and strong earnings.
"I think we'll see a pullback eventually, but it will come and go pretty quickly, and will unlikely drive the market down significantly," he said.
Of course, that doesn't mean the trading environment won't be challenging, with the biggest headwinds coming out of Europe -- even amid ongoing efforts to bring the continent's debt crisis under control, said Ghriskey.
At the end of a two-day meeting in Brussels, 25 of the 27 leaders in the European Union signed a so-called fiscal compact, designed to prevent a future crisis by strengthening budget discipline. As expected, the Czech Republic did not sign due to political obstacles, and U.K. Prime Minster David Cameron also sat out.
The pact still needs to be approved by the parliaments of individual governments. It will be legally binding after it has been ratified by 12 member states and will be incorporated into EU treaties within five years, the leaders said.
There has been some good news out of Europe recently, as Greece appears to have secured a second bailout, and the European Central Bank has completed a second round of loans to European banks worth €529.5 billion.
Concerns remain, however, about Greece's stability and Europe's capacity to support larger economies such as Italy and Spain should they face further distress.
Beyond Europe, investors will continue their close watch on the global oil market and rising gas prices. Gas prices climbed for the 24th straight day Friday, hovering around $3.74 a gallon.
U.S. stocks rose modestly Thursday, as investors welcomed mostly positive economic news and digested testimony from Federal Reserve chairman Ben Bernanke.
Companies: Shares of Yelp (YELP) spiked 64% to top $24 a share in their debut on the New York Stock Exchange Friday. The reviews site priced its initial public offering at $15 a share late Thursday, above the target set by the company.
Shares of Shutterfly (SFLY) surged after the company bought Eastman Kodak's (EK, Fortune 500) online photo services business for $23.8 million. Kodak filed for bankruptcy protection in January.
Overstock.com's (OSTK) stock tumbled after the company posted a surprise loss of $3.4 million for the fourth quarter, as sales declined 10%.
Zynga (ZNGA) shares moved higher after the online game developer announced a new online platform, Zynga.com, which will allow users to play Zynga's games such as FarmVille and Words With Friends on its site and reduce the company's dependence on Facebook.
Wynn Resorts' (WYNN) stock advanced even after shares were briefly halted when the company retracted an SEC filing. The company said it had not approved the filing, which stated it had secured approval to build a property in Macau, China's gambling haven, and that it was released by mistake.
World markets: European stocks closed mixed. Britain's FTSE 100 (UKX) and the DAX (DAX) in Germany edged down 0.3%, and France's CAC 40 (CAC40) added 0.1%.
Asian markets ended higher. The Shanghai Composite (SHCOMP) popped 1.4%, the Hang Seng (HSI) in Hong Kong added 0.8% and Japan's Nikkei (N225) gained 0.7%.
Currencies and commodities: The dollar rose against the euro, the British pound and the Japanese yen.
Oil for April delivery tumbled $2.14 to settle at $$106.70 a barrel.
Gold futures for April delivery fell $12.40 to end at $1,709.80 an ounce.
Bonds: The price on the benchmark 10-year U.S. Treasury rose, pushing the yield down to 1.98% from 2.04% late Thursday.