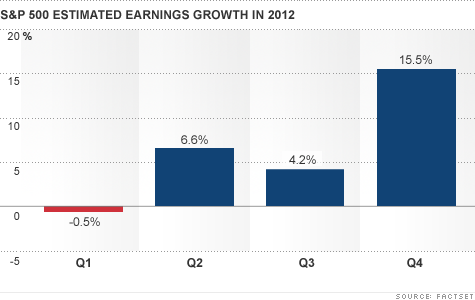 Analysts are expecting first-quarter earnings to decline, and only modest growth for the second and third quarters. Profit growth is expected to return to the double digits by year-end.
NEW YORK (CNNMoney) -- It's hard to imagine life without smart and sleek iPods, iPhones or iPads. But take a step back and consider what corporate America would look like without Apple, and it's even gloomier.
Apple's extraordinary popularity and power among consumers have helped the world's largest company deliver blowout earnings quarter after quarter. And that's provided a sizeable boost to the S&P 500's (SPX) overall profit growth.
Fourth-quarter corporate earnings for S&P 500 companies grew about 6%, year over year, according to FactSet Research Systems.
Strip out Apple's (AAPL, Fortune 500) 116% profit surge, and that growth falls to just 3%. And if you also exclude AIG's (AIG, Fortune 500) 77% earnings pop, which was driven by a tax-related accounting gain, overall S&P 500 growth gets slashed to a measly 1.2%.
What was already a humble quarter -- ending eight straight quarters of double-digit percentage growth -- suddenly looks even worse.
"When the streak first started, companies were coming off really weak earnings during the recession," said John Butters, senior earnings analyst with FactSet. "As we move through the streak, the comparisons have become more challenging and so growth rates have declined."
Expectations aren't much brighter for the first quarter, with analysts expecting corporate profits to decline for the first time since the third quarter of 2009.
Overall, S&P 500 earnings are forecast to slip 0.5%, according to FactSet. Without Apple's estimated 50% profit increase, the decline deepens to almost 2%.
For the technology sector as a whole, the impact is even more pronounced: Including Apple, the S&P 500's tech companies are projected to enjoy 2.2% earnings growth, according to FactSet. Leaving out the Cupertino, Calif.-company, tech earnings are headed for a 5.3% drop.
For example, Xerox's (XRX, Fortune 500) projections for the current quarter are relatively soft. The printer maker is looking for earnings between 21 cents and 24 cents a share, compared with 23 cents a share in the year earlier period.
The Norwalk, Conn.-based company cited a challenging economic environment, particularly in Europe, thanks to the region's ongoing debt crisis.
Companies outside of the tech sector, including industrial manufacturer Eaton (ETN, Fortune 500) and cosmetics giant Estee Lauder (EL, Fortune 500), also said Europe's sluggish economy would drag on earnings.
Similarly, pharmaceutical company Merck (MRK, Fortune 500) gave a cautious first-quarter outlook, citing unfavorable exchange rates between the euro and the dollar.
Companies have also highlighted increasing costs as a headwind this year.
For example, PepsiCo (PEP, Fortune 500) issued a downbeat outlook for 2012, partly due to higher commodity costs. The company said it "does not anticipate that it can pass through all of the higher commodity costs to its consumers in 2012 given the continuing challenges that consumers are facing, particularly in the developed economies."
While the outlook for the first quarter is dim, analysts are optimistic that earnings growth will improve as the year goes on. In fact, while expectations for the second and third quarter are relatively modest, analysts are hoping that profits will grow by double digits again by the final three months of the year, according to FactSet.
"There's hope that the situation in Europe will have stabilized, and the U.S. economy will also continue to gradually improve," Butters said. He added that analysts are also looking for growth in emerging markets to pick up toward the end of the year.
That's in line with 3M (MMM, Fortune 500)'s expectations, which said its China team anticipates "below-trend growth in the first half of 2012, with stronger growth returning in the second half."
Even though profit growth is slowing a bit in 2012, corporate earnings are still likely to to beat the record set in 2011, Butters said.
FactSet is looking for S&P 500 earnings per share for the year at $105, up more than 10% from $95 per share in 2011.
And as long as that's the case, experts say the three-year-old bull market will continue.