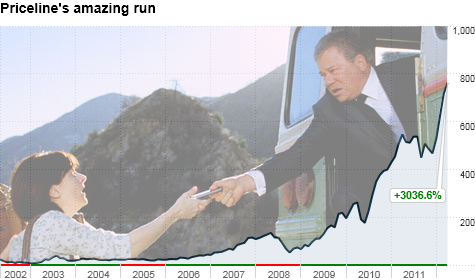 Shares of Priceline have enjoyed a phenomenal run over the past decade. But will the stock plunge like William Shatner's Negotiator? Click chart for more on PCLN.
NEW YORK (CNNMoney) -- William Shatner's Priceline Negotiator character plunged off a bridge in a TV commercial earlier this year. Are Priceline shareholders at risk of following him over the edge?
Priceline (PCLN) has been a phenomenal stock for the past few years. Shares hit a new 52-week high of nearly $775 a share early Tuesday morning before pulling back a bit. The stock is up 64.5% so far in 2012. That's even better than Apple (AAPL, Fortune 500) and its $600 billion market cap. (Apple is up only 58% this year.)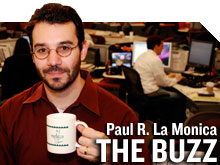 In fact, only two companies in the S&P 500 are off to a hotter start than Priceline this year: Sears Holdings (SHLD, Fortune 500) and watchmaker Fossil (FOSL).
Can Priceline possibly head higher from here? Or are we nearing 2000 bubble levels for this stock? You know things might be getting frothy when several stocks are nearing the magic four-digit mark. USA Today had an interesting piece last week about how Priceline seems to be in a race with Apple, Google (GOOG, Fortune 500) and medical robot company Intuitive Surgical (ISRG) to be the first S&P 500 (SPX) member to reach $1,000 a share.
For what it's worth, Priceline is still reasonably valued ... if not necessarily cheap. Shares trade at about 25 times 2012 earnings estimates and profits are expected to increase 33% from a year ago. Analysts are forecasting that earnings will rise another 23% in 2013.
Priceline is not a dot-com gimmick anymore. It may have become famous thanks to those ubiquitous Shatner "name your own price" ads. But it has emerged over the past decade to become the undisputed leader in online travel.
The company generated nearly $4.4 billion in revenue last year (that's more than Facebook) and is expected to post sales of $5.5 billion in 2012. Nearly 60% of Priceline's sales in 2011 were from its international operations. That includes its Booking.com hotel reservation business, which is a big player in Europe.
Priceline is also insanely profitable, with net margins of 24% in 2011. By way of comparison, rival Expedia (EXPE) had net margins of less than 10% last year.
Does this mean that Priceline is now a screaming buy? No. Investors have to be wary of any stock (including Apple) that has risen this much in such a short period of time. But that doesn't mean Priceline is a bubble about to pop either.
Keep in mind that it would have been reasonable at any point during the past few years to question just how strong the fundamentals for Priceline would be.
After all, it's not as if the economy has been robust in the U.S. Consumers and businesses are still very budget conscious when it comes to travel. And with its exposure to Europe, you would think that Priceline should have been hit hard by the continent's debt crisis.
But it doesn't appear as if the sluggish recovery in the U.S. and the woes of the PIIGS have made much of a dent though. Revenues rose 41% in 2011 following a 32% increase in 2010.
If anything, Priceline's focus on finding bargains may be helping it do well in what are still challenging macroeconomic conditions worldwide.
And Priceline's stock has been soaring for several years now. It's not as if it all of a sudden got hot. Following the depths of the financial crisis, Priceline bounced back nearly 200% in 2009, gained another 83% in 2010 and rose 17% last year.
So if you had been betting against the stock anytime since 2008 thinking that it had to be overvalued, you would have been wrong for more than three years running.
I think it's also telling that -- unlike other hot stocks -- there aren't that many short sellers fighting the Priceline tape. The percentage of Priceline shares held short as of mid-March was 7% of the total float. That's much lower than the levels for other momentum stocks. More than 20% of the available shares of Netflix (NFLX) and Green Mountain Coffee Roasters (GMCR) are being held short.
Yes, it's highly unlikely that Priceline's stock can keep going up at this rapid of a pace. It will eventually need to cool off. But it's probably not going to crash and burn like that bus Shatner's Negotiator "died" in unless earnings momentum slows. And that doesn't seem to be in the cards.
Best of StockTwits: Best Buy's (BBY, Fortune 500) stock does not live up to its name. Shares fell nearly 3% after its CEO stepped down. And Instagram hits the social media lottery with its $1 billion sale to Facebook.
EddyElfenbein: Under Brian Dunn, $BBY went from $33 to $22 while the S&P 500 went from 900 to 1400. So yeah, it's time to go.
bclund: Worst thing about $BBY 's ex-CEO Brian Dunn is that he didn't purchase the extended warranty protection against sudden resignation.
If shareholders call the Geek Squad, will they rush out to try and find a private equity firm to scoop up Best Buy? I am not sure how any new CEO can solve the biggest problem facing Best Buy -- cutthroat competition from the likes of Amazon (AMZN, Fortune 500), Wal-Mart (WMT, Fortune 500), Apple and others.
Matt_SF: The only metric that matters in Facebook acquisition: how many Instagram users deleted their account in last 24 hours. $FB
It will be interesting to see if there is a backlash by loyal Instagram users. But I somehow doubt it. As long as Facebook follows the Google-YouTube model and mostly leaves the service alone, I don't think there will be a customer revolt. Besides, aren't most of those Instagram users also on Facebook?
charlesrotblut: Facebook's purchase of Instagram reminds me of the Internet bubble, when valuations were often based on page views, not actual profits. $FB
But profits will eventually follow, right? This is nothing like 2000. How could a business model of "monetizing eyeballs" through ads nobody will click on tied to a free service with low barriers to entry that could easily be rendered obsolete once the Next Big Thing comes along ever fail? Oh wait.
The opinions expressed in this commentary are solely those of Paul R. La Monica. Other than Time Warner, the parent of CNNMoney, and Abbott Laboratories, La Monica does not own positions in any individual stocks.