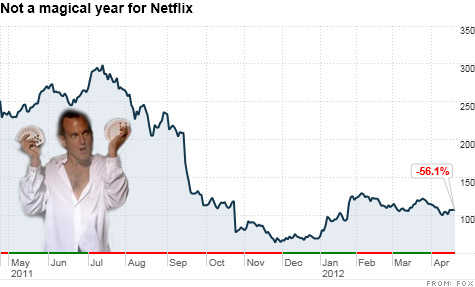 Shares of Netflix are still way off their all-time high. And it will take more than a new season of "Arrested Development" to make investors (and subscribers) forget Qwikster.
NEW YORK (CNNMoney) -- Netflix's stock has bounced back sharply from last year's nightmare. But it may take some of Gob Bluth's best illusions (don't you dare call them tricks!) for the company to be profitable again anytime soon.
Will Arnett's magician and the rest of the cast from the cult sitcom "Arrested Development" are returning for a fourth season that Netflix will stream next year. (Fox canceled the show in 2006.)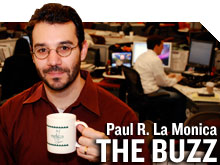 But while "Arrested Development" was (and hopefully still is) pure satirical genius, there's little for Netflix shareholders to laugh about right now. On Monday, the company is set to report quarterly results that are likely to be grim.
Netflix (NFLX) shares have surged more than 50% this year, but they are still 65% below their all-time high from last July. Netflix, which had been a Wall Street favorite due to its stellar track record for growth, stumbled hard last year.
How bad was 2011? Where to begin?
A huge price hike for people subscribing to both Netflix's DVD and streaming business led to an exodus of customers. Netflix then had an embarrassing public relations debacle when it said it would rename its DVD business Qwikster and separate it from the more lucrative streaming business. The company backtracked a few weeks later on the Qwikster rebranding.
Meanwhile, investors grew increasingly nervous about how expensive it will be for Netflix to reach new agreements with big media companies. Netflix also was unable to renew its contract with Starz, a key content supplier. The Liberty Media (LMCA)-owned cable company has a large chunk of Walt Disney (DIS, Fortune 500) movies that are now no longer in Netflix's catalog.
Adding insult to injury, heavy investments in international operations are going to take a huge bite out of earnings for all of this year.
In fact, Netflix is expected to report a loss of 27 cents per share in the first quarter. Analysts are forecasting sales growth of 21% to $868.6 million. While that level of revenue growth is still pretty impressive, it's well below Netflix's average annual revenue growth rate of 32% for the past three years. What's more, sales are expected to only be up 14% for the full year..
The good news is that Netflix reported in January that it did add back some subscribers in the fourth quarter following the defections in the third quarter. But for Netflix to keep rallying, it's going to have to show investors that it can rejuvenate its growth prospects.
That growth could come at the continued expense of earnings.
"Investors appear focused solely on subs growth, which will likely require elevated advertising spending. We expect management to chase subscriber growth at all costs, driving marketing spending ever higher," Michael Pachter, an analyst with Wedbush Securities in Los Angeles, said in a report previewing Netflix's first-quarter results.
In the interest of fairness, I think Netflix CEO Reed Hastings has done an admirable job of owning up to the numerous mishaps last year. Heck, I'm a Netflix customer.
But the company still faces challenges that are hard to overlook.
The move into content may make sense. Netflix also has an original series called "Lilyhammer" starring Steve Van Zandt of "The Sopranos" and Bruce Springsteen fame as a mobster in Norway, as well as the upcoming "House of Cards" with Kevin Spacey to go along with "Arrested Development."
But it's an open question whether original programming will bring back disgruntled Netflix customers. Netflix is not, by any stretch, the only streaming video game in town. And that's true in both the U.S. and the rest of the world.
Hulu, owned by media firms Disney, News Corp. (NWSA, Fortune 500), Comcast's (CMCSA, Fortune 500) NBCUniversal and private equity firm Providence Equity Partners, is also aggressively trying to grab consumers. Hulu even has commercials featuring Arnett. Coinstar's (CSTR) Redbox is boosting its streaming presence. Internationally, Amazon (AMZN, Fortune 500) is a major competitor thanks to its Lovefilm service.
So Netflix faces the delicate dance of wooing back angry U.S. customers while also trying to bulk up abroad.
"The company has staying power, but how much has Netflix bounced back from shooting their toes off in the U.S.? And how aggressive will they be in going after the rest of the world?" wondered Steve Frankel, an analyst with Dougherty & Company in Boston.
Frankel said it's hard to get a sense for how profitable Netflix can be until we know when it plans to "let its foot off the accelerator on international marketing."
If Netflix were a cheap stock, this may not be that big of a concern. But now that Netflix has rallied hard this year, you have to wonder if the easy money has already been made.
"I think Netflix is going to stay around the $100 a share range for the foreseeable future. There is not a whole lot to more to get excited about just yet," said Arvind Bhatia, an analyst with Sterne Agee in Dallas.
It's a similar story to Bank of America (BAC, Fortune 500), the Dow's best performer this year, in a sense. We know that the worst is probably over after an awful 2011. But will there be enough improvement in the near term to justify a much higher stock price?
Netflix trades at 45 times 2013 earnings projections. And the disparity between forecasts is extremely wide, with an estimate of $1.01 a share on the low end and $3.98 a share on the high end. There is just too much uncertainty. Even a Netflix bull concedes as such.
"The stock is likely to be extremely volatile because everything is based on perceptions of profitability several years down the line, which can change significantly," said Andy Hargreaves, an analyst with Pacific Crest Securities in Portland who recommends the stock.
In other words, Netflix might be almost as risky as investing in the Bluth's real estate firm from "Arrested Development."
Best of StockTwits and reader comment of the week: Great numbers from Microsoft (MSFT, Fortune 500) and eBay (EBAY, Fortune 500) have one reader doing the time warp again. McDonald's (MCD, Fortune 500) longs are lovin' it. And Under Armour (UA) isn't just for football players. "We must protect this tweet!"
chrisspinell: $MSFT and $EBAY both doing well? We must have traveled back to the mid-late 90's.
Too funny. I tweeted something similar at the end of Thursday, but alluded to even an earlier part of the 1990s. I noted how Microsoft has momentum and investors are suddenly nervous about Apple (AAPL, Fortune 500). Reminded me of 1993. Where's my Newton?
baumusc: $MCD Thanks for pulling through. Their business actually goes up in economic hard times.
Good point. But not all fast food companies are stodgy value stocks. I discussed the strong performance of Mickey D's, as well as KFC owner Yum! Brands (YUM, Fortune 500) and Chipotle (CMG), the unofiicial CNNMoney restaurant of choice, in today's Buzz video.
cyim: $UA finally breaks $100! woot! largely attributable to women's sales line sell-through. will they start to encroach on$LULU's territory?
Very interesting. Lululemon (LULU) has remained the top downward dog in yoga apparel. But you have to think that Under Armour, not to mention Nike (NKE, Fortune 500), wants to make a bigger splash in this market.
I did a Buzz video earlier this week about the amazing run of medical robot company Intuitive Surgical (ISRG), which keeps reporting solid earnings. One reader cashed in on the stock a little early. And isn't happy about it.
"had $ISRG at $100 sold for $250 to fund a new lawn for overpriced house. Thanks again Ben. #grassyoucantsmoke #housingvictim," tweeted DepletedO2 (It rhymes!)
Sorry about the house. And that you sold at $250 considering ISRG is now near $580. But remember, the housing bubble isn't the Fed's fault. None other than Ben Bernanke has said so! And by the way, the fact that I chose a tweet referring to "grass" as top of the week on 4/20 is purely coincidental.
The opinions expressed in this commentary are solely those of Paul R. La Monica. Other than Time Warner, the parent of CNNMoney, and Abbott Laboratories, La Monica does not own positions in any individual stocks.