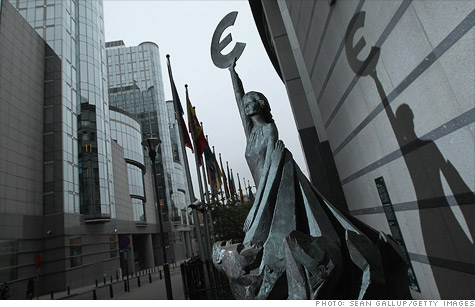 After signing a fiscal compact at their last summit, EU leaders are expected to discuss ways to boost economic growth and create jobs at an informal dinner Wednesday.
NEW YORK (CNNMoney) -- European leaders will gather Wednesday for informal talks amid new threats to the troubled euro currency union.
The informal dinner meeting in Brussels will take place as Greece struggles to form a government. It will also be the first EU summit for the newly-elected French president, Francois Hollande, who has called for a shift away from budget cuts toward more growth-oriented policies.
The leaders will discuss ways to boost economic growth and create jobs, according to an invitation letter from European Council president Herman Van Rompuy. But the meeting is intended to set the stage for an official EU summit next month and will probably not deliver a major breakthrough.
"If we have a common understanding on the main elements of a growth agenda at the end of our dinner, we can move things forward so that we can take decisions in June," said Van Rompuy in Monday's letter.
Still, the leaders could make some progress on existing initiatives. They are expected to agree to increase capital for the European Investment Bank and to use "project bonds" that would fund infrastructure projects across the EU.
The introduction of jointly-backed project bonds, a move supported by Hollande, could be seen as a step toward eurobonds. But that idea of pooling government debt is deeply unpopular in Germany, the eurozone's largest economy, which favors continued fiscal consolidation.
The European Parliament backed a proposal Tuesday to test project bonds, which will be voted on later this month.
"The main objective is to attract debt capital market financing at a time when these projects are heavily dependent on bank lending, which is hardly available with long-term maturities," said Olli Rehn, vice president of the European Commission. He estimates that the bonds could unlock up to €4.6 billion of investment in "infrastructure and innovation."
Analysts say EU leaders may also consider using the European Stability Mechanism, a bailout fund for governments, to recapitalize banks in euro area nations where the government is unable to independently raise cash, such as Spain. They may also discuss giving the ESM a banking license, analysts say.
At their last summit in March, the leaders of all but two members of the EU signed a pact aimed at ensuring fiscal discipline. But the fiscal pact has yet to be officially endorsed by 12 members of the currency union, which is necessary for it to become binding.
Hollande has suggested that the pact should be renegotiated to include a "growth dimension." Other euro area leaders, including Italy's Mario Monti, have called for the creation of a growth pact to complement the fiscal rules.
The eurozone economy didn't grow at all in the first quarter, as both it and the broader 27-nation EU teetered on the edge of recession, according to statistics released last week.
The Organization for Economic Cooperation and Development warned Tuesday that Europe's debt problems could ripple around the world. "The crisis in the eurozone remains the single biggest downside risk facing the global outlook," said Pier Carlo Padoan, chief economist for the OECD.
The latest turmoil in Europe stems largely from Greece, where the debt crisis started nearly three years ago. Athens has been in the midst of political chaos since elections earlier this month failed to produce a clear majority in Parliament. Last week, Greece announced that it will hold a second election.
The lack of leadership has raised fears that Greece may once-again be at risk of defaulting on its debt, despite a historic restructuring and two bailouts.
At the same time, Greeks have been making massive withdrawals from the nation's banks -- prompting worries that the nation could be forced out of the eurozone by a banking crisis even before its government runs out of cash.
Meanwhile, investors have also been worried about Spain, where the government has warned that it will miss its budget targets this year. Spain has also been struggling to clean up its banking sector as the nation's economy has slipped into recession and unemployment has soared.