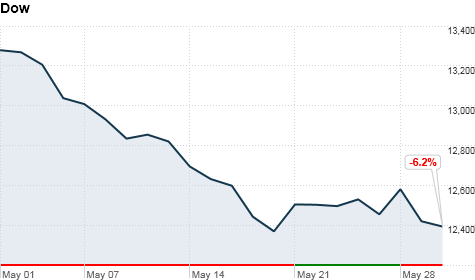 Click the chart for more stock market data.
NEW YORK (CNNMoney) -- U.S. stocks finished in the red Thursday, ending a wretched month on a weak note.
"May is always a difficult month for the market, and this month has lived up to that reputation," said Fred Dickson, chief market strategist at D.A. Davidson, noting that the market has suffered declines in May for three out of the last four years.
This month's sell-off was sparked by escalating concerns about the eurozone debt crisis, with Spain and Greece keeping contagion worries front and center, as well as fears about a slowing U.S. economy. CNNMoney's Fear & Greed Index, which measures investor sentiment, has remained firmly in "extreme fear" territory for more than two weeks.
The Dow and S&P 500 dropped more than 6% in May. In fact, the Dow only booked five positive days this month. The last time this occurred was in January 1968. Meanwhile, the Nasdaq has declined more 7%.
The Dow and Nasdaq logged the worst monthly performance since May 2010, when investors were spooked by the Flash Crash, while the S&P 500 posted its biggest monthly loss since September 2011.
As stocks have tumbled, investors have rushed toward the safety of U.S. Treasuries, pushing the 10-year yield to record lows.
Thursday's market moves were driven by a batch of weak U.S. economic data, including reports on initial jobless claims and regional manufacturing, which cast a cloud over hopes that the domestic economy is improving.
Meanwhile, gross domestic product growth for the first quarter was revised lower to a 1.9% annual rate.
The Dow Jones industrial average (INDU) finished down 26 points, or 0.2%. The S&P 500 (SPX) lost 3 points, or 0.2%, and the Nasdaq (COMP) shed 10 points, or 0.4%.
"The market environment is very fragile, and investor nerves are very fragile," said Dickson. "We're seeing immediate reactions to pieces of economic data and incremental news regarding Europe's banks and broader fiscal problems. Lacking a positive fundamental background, buyers are stepping back even though market valuations look compelling."
Investors also continue to keep tabs on Europe's debt crisis.
Worries about Spain not being able to fund bank bailouts, which could reach a cost of as much as €100 billion, continue to build. The yield on 10-year Spanish debt soared to 6.6% Wednesday, but retreated slightly Thursday.
The International Monetary Fund said it will begin its annual economic review of Spain next Monday.
Investors are also keeping a close eye on Greece, ahead of the country's elections next month, amid concerns that Greek voters could reject austerity measures, which would force their country out of the eurozone.
U.S. stocks also fell sharply Wednesday on heightened concerns about Europe's debt crisis.
Economy: A report on private-sector hiring from payroll services firm ADP showed a gain of 133,000 jobs, less than the 157,000 forecast by economists.
Additionally, the number of people filing for first-time unemployment benefits in the U.S. rose 10,000 to 383,000 in the latest week, which was higher than the expected 368,000 forecast by analysts.
The latest batch of jobs reports came before the government's closely watched monthly jobs report, which is due Friday. Analysts surveyed by CNNMoney expect that the U.S. economy added 150,000 jobs in May, including 12,000 government cuts. The unemployment rate is expected to stay at 8.1%.
The Chicago Purchasing Managers Index, which tracks manufacturing activity in much of the Midwest, fell for a third straight month to 52.7, the lowest level since May 2009. The index was expected to come in at 57 for May, up from 56.2 in the month prior. The report is seen as an indicator of what will happen with the national reading on manufacturing from the Institute of Supply Management, due Friday.
Foreclosures accounted for for 26% of home sales during the first three months of the year, according to a report released Thursday by RealtyTrac.
Companies: Shares of Joy Global (JOY) fell after the mining equipment maker easily beat forecasts but lowered its guidance.
Networking equipment maker Ciena (CIEN) reported earnings that blew past analysts' estimates and issued a forecast in line with expectations, lifting shares.
Shares of TiVo (TIVO) fell after the DVR maker reported a larger-than-expected quarterly loss after the bell Wednesday.
Shares of Facebook (FB) hit a fresh low of $26.83 but managed to recover, ending the day up 5% at $29.60.
World Markets: European stocks ended mixed. Britain's FTSE 100 (UKX) rose 0.2%, the DAX (DAX) in Germany rose 0.3% and France's CAC 40 (CAC40) dropped 0.1%.
In Asia, major indexes closed slightly in the red after recovering from earlier steep losses. The Shanghai Composite (SHCOMP) shed 0.5%, the Hang Seng (HSI) in Hong Kong lost 0.3% and Japan's Nikkei (N225) closed 1.1% lower.
Currencies and commodities: The dollar was flat against the euro, fell against the Japanese yen, and rose versus the British pound.
Oil for July delivery fell $1.29 to settle at $86.53 a barrel.
Gold futures for June delivery slipped 80 cents to settle at $1,562.60 an ounce.
Bonds: The price on the benchmark 10-year U.S. Treasury rose, pushing the yield to 1.57%, down from Wednesday's record low close of 1.62%.