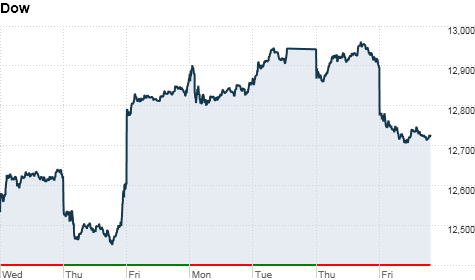 Click the chart for more stock markets data
NEW YORK (CNNMoney) -- Investors are gearing up for a week full of earnings reports and domestic news, but Europe will once again be hard for U.S. investors to ignore.
Dozens of companies are set to kick off earnings season this week. All eyes will turn to JPMorgan Chase (JPM, Fortune 500) on Friday, as the company will post its trading losses tied to its bad hedge from its London unit.
Some estimate that the loss could be as high as $9 billion, though the bank's chief executive officer, Jamie Dimon, said back in May that the loss then stood at $2 billion.
Shares of JPMorgan have continued to trend down since news of the trade broke, cooling off the whole financial sector.
Also weighing down financial shares: Barclays (BCS) was fined roughly $453 million by the FSA, Commodity Futures Trading Commission and the U.S. Department of Justice for participating in a scheme to fix two key lending rates, including the closely watched LIBOR, which affects as much as $350 trillion in loans and derivatives.

The scandal has spread to seven other banks. Firms including Deutsche Bank (DB), Royal Bank of Scotland (RBS), Credit Suisse (CS), Citigroup (C, Fortune 500), UBS (UBS), Bank of America (BAC, Fortune 500) and JPMorgan Chase (JPM, Fortune 500) have disclosed that they are being investigated. Financial shares were down between 1% and 6% on Friday on the news.

Analysts are expecting disappointing earnings from JPMorgan and Wells Fargo (WFC, Fortune 500), which will also report on Friday.
"It's been one thing after another overhanging the financial sector, so banks are cutting back on risks," said Douglas DePietro, managing director in institutional equities at Evercore Partners.
Investors going to see that reflected in earnings, but it will also continue to show in stocks. "No one is looking to own financials, because there's a lot of headline risk," DePietro said.
Aluminum maker Alcoa (AA, Fortune 500) will set the tone for earnings when it announces second-quarter results after the closing bell on Monday. Analysts estimate a decline of 78% from the same quarter a year ago to a profit of 6 cents per share.
Analysts are expecting disappointing earnings across the board in the next few weeks.
"People are very cautious right now and worried that the European situation has led to weak spending," DePietro said. "But at least it's going to get investors back to looking at individual companies and sectors instead of global macro overhang that we've seen in the last few months."
Investors will also parse through minutes from the the Federal Open Market Committee's last meeting in June, which the Federal Reserve will release on Wednesday.
While there could be more color about what individual members think about potential stimulus measures, there likely won't be any major surprises out of the notes, since the Fed chairman Ben Bernanke gave a press conference and released projections following the meeting.
Meanwhile, investors will continue to monitor news from eurozone leaders, who will meet on Monday in Brussels. The EuroGroup is expected to discuss how money from the European Stability Mechanism (ESM) could be used to bail out troubled banks in the euro area.
European Union finance ministers will follow up with a meeting on Tuesday.
In corporate news, BlackBerry maker Research in Motion (RIMM) will hold its annual shareholder meeting in Waterloo, Ontario, on Tuesday.
It's been a tough year for RIM, filled with slumping sales and the departure of its co-CEOs. Worst of all, the company announced last week another delay for its BlackBerry 10 operating system -- meant to be the linchpin of RIM's turnaround.
All three indexes closed lower Friday. The Dow (INDU) ended the holiday-shortened week down 0.8%, while the S&P 500 (SPX) lost 0.5%. The Nasdaq (COMP) barely stayed in positive territory, adding less than 0.1%.