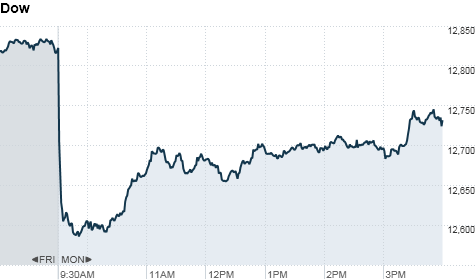 Click the chart for more stock markets data
NEW YORK (CNNMoney) -- Stocks pared losses on Monday, but all three indexes still closed lower as worries that Spain may need a full-blown bailout sparked a global sell-off.
"There seems to be a pattern whereby markets sell hard into the close of European markets and then see some relief," said Mark Luschini, chief investment strategist at Janney Montgomery Scott. "Despite the comeback, Europe will continue to waffle the markets. It's all predicated on whether anything will be done to triage Spain's duress."
U.S. stocks remained under pressure as markets closed. The Dow Jones industrial average (INDU) sank 101 points, or 0.8%, after earlier shedding more than 220 points earlier. The S&P 500 (SPX) dropped 12 points, or 0.9%, and the Nasdaq (COMP) lost 35 points, or 1.2%.
The selling was widespread, with oil prices tumbling 4% and copper prices skidding 3.3%. The euro weakened further, falling as low as $1.207.
Investors flocked to traditional safe havens, such as U.S. Treasuries, where the 10-year yield hit a fresh record low of 1.395%. The German 10-year yield also fell to a record low of 1.127%.
Fears over the debt crisis plaguing Europe pushed the yield on the 10-year Spanish bond up to a euro-area record high of 7.565% -- a level that flashes the first bailout signals and one that Spain's leaders have said is unsustainable.
Securities regulators in Spain and Italy both instituted temporary short-selling bans Monday to try to stop the heavy selling in European markets.
Eurozone finance ministers finalized initial bailout terms for Spanish banks last week, but observers fear that may not be enough. Spain's regional economies are also showing signs of struggle, with Valencia said to have requested emergency funding last Friday.
The Bank of Spain also reported that the nation's economy contracted by 0.4% in the second quarter -- that's the third quarterly contraction and shows the eurozone's fourth-largest economy could be mired in recession for some time.
While Europe continued to dominate trading Monday, investors also had some corporate earnings to contend with. But analysts say Europe's debt problems will show up there, as well.
"Eurozone news is beginning to manifest itself in the earnings seasons, since we're seeing the erosion of profits, with the dollar gaining strength," said Quincy Krosby, market strategist for Prudential Financial.
While nearly all companies that have reported so far have topped earnings expectations, analysts' forecasts were very low to begin with. In addition, just 45% of companies that have reported have topped revenue expectations, the lowest percentage since the first quarter of 2009, according to FactSet.
World markets: European stocks closed deep in the red. Britain's FTSE 100 (UKX) lost 2.1%, the DAX (DAX) in Germany fell 3.2% and France's CAC 40 (CAC40) dropped 2.7%.
Spain's IBEX 35 slid 1.1% Monday. Italy's benchmark FTSE MIB index fell 3%, while borrowing costs spiked. The 10-year Italian yield rose to 6.3% from 6.166% late Friday.
Asian markets ended sharply lower. The Shanghai Composite (SHCOMP) fell 1.3%, the Hang Seng (HSI) in Hong Kong tumbled 3% and Japan's Nikkei (N225) dropped 1.9%.
Companies: McDonald's (MCD, Fortune 500) shares slipped after the fast-food restaurateur missed earnings and revenue expectations, citing a slowing global economy.
Hasbro's (HAS) stock rose after the toymaker reported second-quarter earnings beat analyst expectations. But the gains were limited as the company's revenue dropped 11% and missed Wall Street's forecast.
Shares of Halliburton (HAL, Fortune 500) edged higher after the oil and natural gas services company posted better-than-expected earnings as strong drilling activity in international markets offset a slowdown in North America.
Later this week, UPS (UPS, Fortune 500), AT&T (T, Fortune 500), Ford (F, Fortune 500), Apple (AAPL, Fortune 500) and Amazon (AMZN, Fortune 500) are slated to open their books. Facebook (FB) is also set to report its first quarterly earnings as a public company.
Shares of Nexen (NXY) jumped more than 50% after China's state-owned oil producer CNOOC (CEO) agreed to buy the Canadian oil and gas producer for $15.1 billion.
Shares of GenOn (GEN) and NRG Energy (NRG, Fortune 500) climbed after NRG agreed to buy the Houston-based wholesale power provider in an all-stock deal worth about $1.7 billion.
RailAmerica's (RA) stock was higher after Genesee & Wyoming agreed to buy the company for $1.39 billion in cash.
-- CNN producer Isa Soares contributed