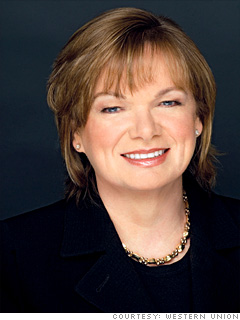 Title: President and CEO
Company: Western Union
Age: 61
Compensation: $4.9 million
The recession hasn't changed money-transfers' status as big business. With a presence in more than 200 countries -- and over 600 million transactions in 2008 -- Western Union handled $67 billion in cross-border remittances last year, a 17% increase from 2007.
And despite slowing demand in the fourth quarter, Western Union's profits in 2008 increased 7% to $919 million. That hasn't made the company immune to the downturn -- it eliminated 200 jobs globally last fall.
But Christina Gold isn't going to let that stop Western Union's growth: The company recently launched the acquisition of one of its largest agents, FEXCO, which manages more than 10,000 Western Union locations throughout Europe.
More galleries
Last updated April 21 2009: 3:48 PM ET
Email
|
Print
|

Digg this story
|
RSS