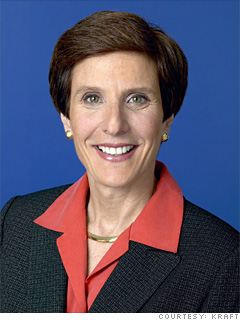 Title: Chairman and CEO
Company: Kraft Foods
Age: 55
Compensation: $17 million
With the recession in full swing and mounting pressure from private-label products, it might seem that Kraft is facing some troubles. Not so, says Irene Rosenfeld. Revenue actually increased 16.8% in 2008 to $42.2 billion, and Rosenfeld is quick to point out that more families are cooking at home now. So who better to help them do that than the maker of such potential recession fare as Kraft Macaroni & Cheese and Jell-O pudding?
As sales volume dipped 5.2% in the fourth quarter amid inventory reduction at supermarkets, Kraft has held off on new product launches, choosing instead to shed less profitable brands like Handi-Snacks puddings.
It's all part of the three-year turnaround strategy Rosenfeld began when she became CEO in 2006, and onlookers are watching closely: Not only does Warren Buffett own a 9.4% stake, but now that Kraft has replaced AIG on the Dow, Rosenfeld is the only woman to head a Dow 30 company.
NEXT: Ellen Kullman
Last updated April 21 2009: 3:48 PM ET
Email
|
Print
|

Digg this story
|
RSS
Compensation figures include salary, bonus, stock awards, option awards, non-equity incentive plan compensation, change in pension value and non-qualified deferred compensation earnings and all other compensation as reported in the company proxy statement. Figures are for 2008 unless otherwise noted.