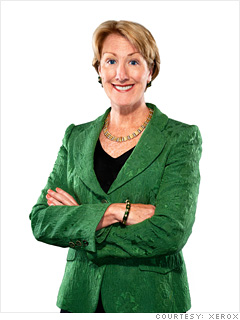 Title: Chairman and CEO
Company: Xerox
Age: 56
Compensation: $10.9 million
With more than 30 years at Xerox, it's no surprise that Anne Mulcahy was the right woman to turn the company around. Since taking the helm in 2001, she kept Xerox from the looming threat of bankruptcy, becoming a favorite corporate success story.
Now she faces new challenges. Though Xerox's revenue was up 2% in 2008 to $17.6 billion, a further slowdown in technology spending this year will likely cut into sales. A stronger dollar doesn't help, either, as much of Xerox's revenue is generated abroad.
Last year, Xerox announced plans to eliminate 3,000 jobs and targeted annual savings of $250 million. There's more to come, but Mulcahy -- who featured on President Obama's economic transition team -- is ready.
NEXT: Brenda Barnes
Last updated April 21 2009: 3:48 PM ET
Email
|
Print
|

Digg this story
|
RSS
Compensation figures include salary, bonus, stock awards, option awards, non-equity incentive plan compensation, change in pension value and non-qualified deferred compensation earnings and all other compensation as reported in the company proxy statement. Figures are for 2008 unless otherwise noted.