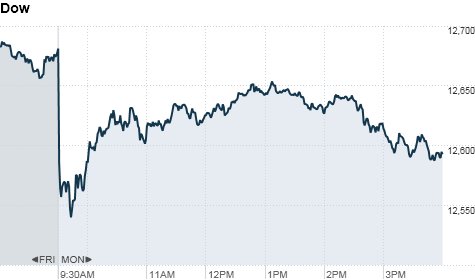 Click the chart for more stock market data.
NEW YORK (CNNMoney) -- The stock market started the week in the red Monday, but losses were not nearly as devastating as some expected, after lawmakers failed to agree on a debt ceiling deal over the weekend.
The U.S. government is just eight days away from a possible default. But instead of selling off stocks in a panic Monday, investors mostly sat on their hands watching Congress haggle.
"They're on the sidelines, waiting, and I don't blame them," said Muriel Siebert, founder of Muriel Siebert & Co. "We have never gone through a situation like this before."
The Dow Jones industrial average (INDU) lost 88 points, or 0.7%, with 26 of its 30 components falling.
Meanwhile, the S&P 500 (SPX) fell 7 points, or 0.6%; and the Nasdaq (COMP) fell 16 points, or 0.6%.
"When I look at my screen, almost everything is red. But they're not down any significant amount. The market did nothing today and it's because we made no progress with the debt ceiling," Seibert said.
In the afternoon, both Democratic and Republican leaders unveiled new plans to reduce the national deficit and raise the debt ceiling.
If Congress doesn't raise the $14.3 trillion debt limit by next week, Americans could face rising interest rates and a declining dollar, among other problems. But investors continue to call Washington's bluff, and are optimistic a deal will be reached before the August 2 deadline.
"I think fundamentally, the market is telling us it doesn't believe we're truly going to default. Somehow, some way there will be a decision," said Jack Ablin, chief investment officer with Harris Private Bank in Chicago.
Travelers Companies (TRV, Fortune 500), Boeing (BA, Fortune 500) and Procter & Gamble (PG, Fortune 500) were the biggest drags on the Dow, while Microsoft (MSFT, Fortune 500) and Hewlett-Packard (HPQ, Fortune 500) were among the handful of gainers.
Bond prices dropped Monday, pushing the yield on the benchmark 10-year Treasury note up to 3.01%, as investors continued to give Washington the benefit of the doubt.
It's not clear exactly how the bond market will react as the debt ceiling deadline approaches. Some traders think yields may stay low as investors seek out traditional safe-havens. Conversely, the specter of default could cause a flight from Treasuries to other assets.
Traders will keep a close eye on this week's auctions. Treasury is selling a total of $99 billion in 2-year, 5-year and 7-year notes.
Meanwhile, credit rating agency Moody's downgraded Greece yet again, saying the European bailout package put together last week increases risk for the country's creditors.
U.S. stocks are coming off a mixed Friday session, as strong gains in the technology sector were offset by disappointing results from industrial conglomerate Caterpillar. (CAT, Fortune 500)
Companies: Shares of BlackBerry maker Research in Motion (RIMM) fell 4.4%, after the company announced it was laying off 2,000 employees -- 11% of its workforce.
ETrade (ETFC)'s stock jumped 5.4% on talk that TDAmeritrade (AMTD) may consider a bid for the online brokerage. Late Friday, Etrade retained Morgan Stanley (MS, Fortune 500) to look at strategic alternatives.
Netflix (NFLX) shares tanked 7.6% after the bell, when the video rental company reported quarterly revenue of $788.6 million, falling short of analysts' estimates for $791.5 million. The company also reported a profit of $1.26 per share, beating forecasts for $1.12 a share.
The company spent much of its earnings release discussing the recent price hike that spurred thousands of online complaints.
Texas Instruments (TXN, Fortune 500) shares rose 0.4% after the bell, when the chipmaker reported earnings and revenue that beat analyst estimates.
Currencies and commodities: The dollar weakened against the euro and Japanese yen, but strengthened against the British pound.
Oil for September delivery slipped 67 cents to settle at $99.20 a barrel.
Gold futures for August delivery hit a new intraday record of $1,624.30 before settling at $1,612.20 an ounce.
World markets: European stocks came off their morning lows in late day trading. Britain's FTSE 100 closed 0.2% lower and France's CAC 40 ended down 0.7%, while the DAX in Germany rose 0.3%.
Asian markets ended the session lower. The Shanghai Composite dropped 3%, the Hang Seng in Hong Kong lost 0.7% and Japan's Nikkei fell 0.8%.
Shanghai's decline was due in part to a sell-off in railway-related shares, after a bullet train collision over the weekend killed at least 38 people.