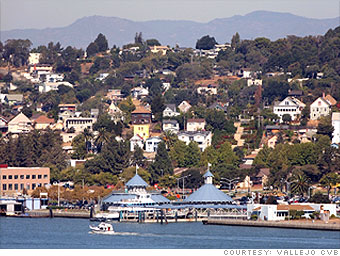 The town on San Pablo Bay just north of San Francisco filed bankruptcy as plunging property taxes crippled the town's coffers and left the city unable to make-good on union labor contracts.
A bit more than a year ago, the town of Vallejo, Calif., filed for Chapter 9 bankruptcy, and the city is still working to negotiate with labor unions, in particular the fire and police departments. Vallejo had to file for Chapter 9 bankruptcy -- not Chapter 11, as corporations do -- because it does not have the option to restructure its debt, as corporations do with a Chapter 11 filing.
A revolving door of city leaders hasn't helped the town manage the negotiations, and there is no timeline for when Vallejo expects to exit bankruptcy.
Home to just shy of 120,000 people, Vallejo was established in 1844 as a shipping center, but the Mare Island Naval Shipyard was shut down in 1996. The town is also home to one of Six Flags more successful theme parks, Discovery Kingdom.

NEXT: Lear hits the brakes