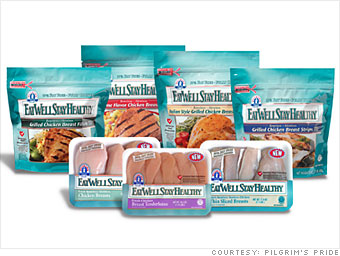 Surging corn and grain prices coupled with softening demand pushed Pilgrim's Pride to file for Chapter 11 bankruptcy in December to address "short-term liquidity challenges."
The company filed for bankruptcy with $3.75 billion in assets and $2.72 billion in debts. The company said it had sales of $8.5 billion in 2008, but also faced an oversupplied and underpriced chicken market.
Pilgrim's itself slaughters and sends to market 45 million birds each week for a total of 9 billion pounds of poultry each year. It also produces 42 million dozen table eggs per year.
The Pittsburg, Tex.-based company will continue operating its 39 chicken and prepared-food plants throughout the bankruptcy process, and further layoffs are not expected for its 41,000 employees. (Eight plants had been previously idled.)
Pilgrim's Pride is hoping to emerge from bankruptcy by the end of the year.

NEXT: Bloom is off celeb florist