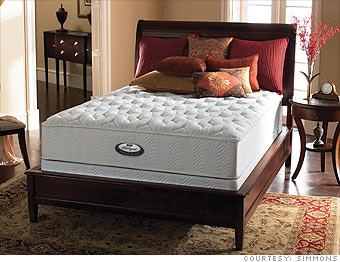 Simmons Co., the second largest mattress maker, has been losing a lot of sleep during the downturn. On Sept. 25, the company announced plans to file for Chapter 11 bankruptcy and create a restructuring plan to slash the company's $1 billion debt to $450 million.
The normally stable mattress industry has seen the worst downturn in its history, according to SunTrust Robinson Humphrey analyst Keith Hughes. But, he says, "maybe the worst has passed" since sales seem to be stabilizing.
Private equity firm Ares Management and Teachers' Private Capital, the private investment arm of the Ontario Teachers' Pension Plan, will acquire the Atlanta-based company for $760 million.
Simmons, owned by Boston private equity firm Thomas H. Lee Partners since 2003 and five other private equity firms prior, reported it had $67.3 million of cash on hand at the end of the second quarter of 2009, but less than $100,000 available to borrow under a senior credit facility.
The company celebrated for modernizing the industry with its no-flip mattress was founded in 1870 by Zalmon Simmons in Kenosha, Wisc., as producer of cheese boxes and wooden insulators producer.
The company got into wire-woven mattresses six years later, grew to run manufacturing plants nationally in 1919 and created the coil spring Beautyrest mattress in 1925.

More galleries