These sites have tools you can trust to help you make better money decisions.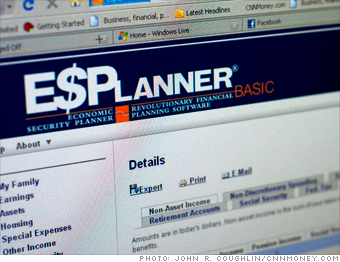 Best Site:
Basic.esplanner.com
With the markets bouncing around so much, you may have checked some online calculators to see if you need to shovel in more cash. But many of those tools are flawed, argues Boston University economist Laurence Kotlikoff, the brain behind ESPlanner. For a start, they often ask you to guess how much of your pre-retirement income you'll want to live on. "Who knows what percentage you should choose? Is it 80%? 75%?" asks Kotlikoff.
ESPlannerBASIC skips such imponderables. It asks what you earn, what you spend, and how your financial obligations will change over time. (For example, when will your youngest kid graduate?) It then assumes that you'll want your family to maintain the same living standard from today on, and figures out how much you can afford to spend, plus how much life insurance you'll need. Because ESPlanner asks such detailed questions, it will take at least 30 minutes to complete. But it's the most in-depth plan you can get for free.
Caveat:
ESPlannerBASIC saves your data for only 24 hours. Set aside an evening when you'll have time to complete the process.
Try this too:
For a quick review of how you're doing, go to
CNNmoney.com/tools
and "
Check Your Financial Health
."
NEXT: 2. Do I have the right mix of investments?
Last updated February 19 2010: 12:01 PM ET
Note: We didn't assess sites that deliver primarily news and information, such as WSJ.com or CNNMoney.com.