GM outlines likely bankruptcy plan
In a government filing, the struggling automaker says it will most likely follow a legal path similar to Chrysler's bankruptcy.
Photos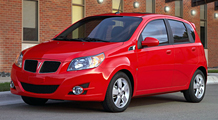 DETROIT (Reuters) -- General Motors Corp Thursday said that if it files for bankruptcy it would most likely pursue a quick sale of its best assets to a new operating company similar to the process now reshaping Chrysler LLC.
The disclosure, which came in a filing for U.S. securities regulators, marked the first time that GM said it would most likely pursue the same legal strategy that Chrysler is using under federal oversight to slash its debt and dealerships.
GM faces a June 1 deadline to restructure its bond debt and reach a sweeping new deal with its major union.
The automaker repeated in its filing with the U.S. Securities and Exchange Commission that it expected to file for bankruptcy if not enough of its bonds are tendered in exchange for shares by that deadline.
As part of its restructuring now headed by Chief Executive Fritz Henderson, GM has had legal advisers mapping out a strategy if it is forced to file for bankruptcy.
GM has said that those options could include a sale of its profitable assets under "Section 363" of the bankruptcy code.
"We are considering ... alternatives in consultation with the U.S. Department of the Treasury, our largest lender," GM said in its SEC filing. "We currently believe that if we pursue one of these (bankruptcy) alternatives, a 363(b) sale would be the most likely."
Chrysler, which filed for bankruptcy protection April 30 after failing to win a deal with secured lenders to cut its debt, aims to use that provision of the bankruptcy code to complete a sale of most of its operations to Italy's Fiat SpA later this month.
It was not immediately clear what entity would buy GM assets out of bankruptcy, but analysts have said an entity backed by the U.S. government was one likely alternative.
U.S. officials with the Obama administration's autos task force have described Chrysler's strategy as a "quick rinse" or a "surgical" bankruptcy intended to allow the automaker to resume operations quickly and minimize uncertainty for consumers.
But the process has also proved controversial because of the administration's insistence that the United Auto Workers union have its unsecured claims against Chrysler paid out at a higher rate than the recovery for the higher-ranking secured debt.
Analysts have said similar disputes between creditors could complicate any GM restructuring under court protection.
GM has offered to swap $27.1 billion in its bond debt for a 10-percent stake in a restructured company under the majority ownership of the U.S. Treasury.
The automaker has said it needs to bondholders to swap out of 90 percent of the value of the debt they are owed in order to avoid a bankruptcy filing.
GM also remains in talks with the United Auto Workers on a new contract and new payment terms for the $20 billion it owes the union for retiree health care.
The union, which could own almost 40 percent of the restructured GM through a retiree trust fund, has objected to the automaker's plans to import more vehicles into the U.S. market at the same time it is looking to cut about 21,000 additional U.S. factory jobs.

Features

These Fortune 100 employers have at least 350 openings each. What are they looking for in a new hire? More

It would be the world's second-biggest economy. See how big companies' sales stack up against GDP over the past decade. More