Fiat was Chrysler's only option
Former Chrysler President Tom LaSorda testified in Chrysler's bankruptcy case that the company searched the globe for a white knight but could not get the cash it needed.
Photos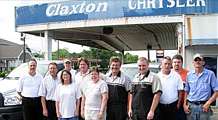 NEW YORK (CNNMoney.com) -- Bankrupt automaker Chrysler LLC "went around the world" searching for a business partner but only Italy's Fiat was willing to strike a deal after last year's economic tumble, a former Chrysler executive told a federal judge Wednesday.
Tom LaSorda, who retired from his position as Chrysler's president when the company filed for bankruptcy on April 30, said Chrysler started looking into a merger or global strategic partnerships in the fall of 2006.
The testimony came in a bankruptcy court hearing to determine the fate of Chrysler. The proceeding, before Judge Arthur Gonzalez, lasted well into the evening and was set to continue at 10 a.m. on Thursday.
Chrysler and its lawyers argued for a swift resolution to its plan to restructure the company, while a group of dealers and creditors opposed it. Gonzalez is widely expected to soon approve the bankruptcy.
According to LaSorda, Chrysler sought a deal with Volkswagen, Tata and several Chinese automakers, but they expressed little interest in a deal. The company was particularly interested in a foreign automaker that had a strong portfolio of small cars.
When auto sales took a sharp dive last year, Chrysler intensified its search, hoping to get cash as part of a deal to shore up its dwindling capital reserves. But the recent market meltdown killed near-deals with foreign automakers Nissan and Kia.
"We couldn't bring anyone to the altar to bring us five cents," LaSorda testified. "No one would bring us a nickel."
At the end of 2008, Chrysler was not only unable to find a white knight that would give it cash infusion, but Fiat was the lone car company that was even willing to negotiate, LaSorda said.
"I cannot force another auto company to sign a deal with me; Fiat was the only company that submitted a term sheet to us," he said. "We were very lucky to get a player like Fiat."
To keep the company afloat, Chrysler received $4 billion from the Treasury Department in December 2008 and $4 billion more this year. But after many of the company's creditors rejected a debt-for-equity swap to help the company restructure, the Obama administration forced the automaker to seek Chapter 11 bankruptcy protection.
Chrysler is hoping to go in and out of bankruptcy in just one or two months. A source close to the matter said that Chrysler would likely emerge from bankruptcy protection at the shorter end of that term.
Chrysler is seeking to pull its best-performing factories and dealerships out of bankruptcy and sell them to a newly-formed incarnation of itself, called Chrysler Group. The company would then join with Fiat, selling it an initial 20% stake that could go up to 35%.
Rival General Motors (GM, Fortune 500) also faces a looming bankruptcy filing after its bondholders roundly rejected the company's equity for debt swap proposal on Wednesday.

Features

These Fortune 100 employers have at least 350 openings each. What are they looking for in a new hire? More

It would be the world's second-biggest economy. See how big companies' sales stack up against GDP over the past decade. More