For autoworkers, a new world
As men and women on the line make big sacrifices, a tough job that used to promise security and entry into the middle class becomes a lot less appealing.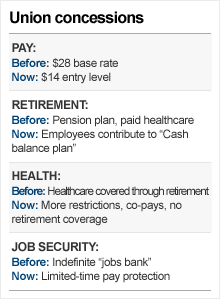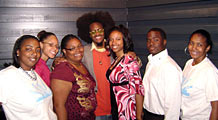 The young people of Motown have a tough choice: Go where the jobs take them or stick around Detroit and tough it out.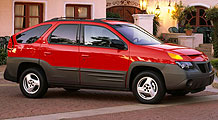 Over its history General Motors has made its share of bad products. Some were poorly built, some were badly executed, others suffered from lousy timing.
Find your next Car

NEW YORK (CNNMoney.com) -- There was a time, not very long ago, when getting a job on the production line at a big automaker meant an instant ticket to the American dream, even for someone with little formal education. Not anymore.
"The minute you signed the paper, you were instantly vaulted into the middle class," said Mike Smith, director of Wayne State University's Walter P. Reuther Library in Detroit, named for the founder of the United Auto Workers, the union that represents auto workers.
A shrinking paycheck. As the auto industry undergoes a sea change, the government has demanded that Chrysler and General Motors (GM, Fortune 500) bring their labor costs in line with foreign competitors operating non-union factories in the U.S.
Today, an entry-level autoworker in a "non-core" position will make $14 an hour, compared to the $28-an-hour "base rate" others make, according to a summary of Chrysler's contract agreement.
Workers' benefits have also taken a hit.
"Workers coming in will have good benefits and a good wages but not necessarily what they were 20 or 30 years ago," said Smith.
Anemic health care. New UAW employees will pay a much larger portion of their health care expenses and once they retire, carmakers won't pay for it, according to information from the Center for Automotive Research.
Fewer medical procedures and drugs will be covered and, under new agreements, Chrysler and GM retireees won't have dental and vision care covered.
Eroding unemployment benefits. As GM and Chrysler restructure, the UAW has agreed to give up salary protections that had cushioned laid off autoworkers.
These protections had allowed factory workers to get their full pay, or close to it, even after they had been laid off. Workers could stay in the so-called "jobs bank," with pay, until they'd either returned to work or turned down job offers from the automaker.
Under new deals with GM and Chrysler, factory workers will receive much less money when they're laid off. Senior workers will only be protected for up to one year, according to a summary of recent UAW contract changes.
Roots of the union. The UAW was started in the 1930's and, at first, was aimed at improving working conditions and curbing abuses on the factory floor, Smith said.
Before an auto workers' union even existed, Ford Motor Co. (F, Fortune 500) unilaterally decided to begin paying its factory workers $5 a day starting in 1914, more than double the prevailing wage at the time, according to the book "Wheels for the World," by Douglas Brinkley.
The reason Ford agreed to pay that high wage was that workers wouldn't stay on the lines very long otherwise. Every year, automakers had to hire and train many times the number of workers they actually needed to staff production lines, as workers quit or simply stopped coming to work.
The work was mind-numbing at best, deadly at worst, especially at Ford which pioneered the use of assembly lines.
"In 1916, Highland Park might have a few deaths, a few hundred limbs lost," said Smith, talking about Ford Motor Co.'s first big, automated factory.
Still, potential workers flocked to Detroit to work in Ford's plants looking for those big paychecks. Those who were accepted were subjected to strict background checks and agreed to have their homes routinely inspected by Ford staffers to be sure they were living decent, clean lives.
Although Henry Ford bitterly resisted unionization when the time came, the $5 day offered a preview of what was to come. Ford wages eventually slipped back into line with the rest of the industry while workers demanded safer working conditions.
The UAW's heyday. As the economy improved and auto sales picked up following World War II, unions demanded a bigger share of the boom.
"The kind of benefits we take for granted today, like health care and pensions, that stuff came up in the 1950's," said Smith.
Automakers had another reason, besides union demands, to provide these benefits, said Nelson Lichtenstein, Center for the Study of Work, Labor, and Democracy at the University of California, Santa Barbara.
"They wanted to generate loyalty and collaboration with the company," he said.
Union leaders were actually pushing for government sponsored health care plans and better social security retirement benefits, he said, and saw corporate largesse as the less desirable alternative.
The downside of good benefits. As American automakers' market share shrank, those benefits became very costly. Ultimately, automakers ended up paying far more for retirees than for current workers.
GM, for instance, pays benefits to about 650,000 retirees and surviving family members while it has about 70,750 current employees, including both union and non-union workers.
Since these carmakers have been producing cars in the United States much longer than their Japanese rivals, they also have an older workforce. Older workers generate higher health care costs, said Smith.
It has been estimated that health care costs add about $1,500 to the cost of each car produced.
"The number of workers under the GM [union] contract today is 50,000 to 60,000 workers," he said. "That's way down from the 400,000 that it was in the 1970's."
Today, Lichtenstein said, many Americans feel that autoworkers are only getting what they have coming to them: wages and benefits befitting those with blue-collar jobs.
But in the past, autoworkers' good wages and benefits set the standard that Americans could rise above, with education and hard work, Lichtenstein said. As workers at automakers and suppliers are forced to accept less, it ultimately takes our standards down as a nation.
"You want those parts workers to make more because that sets our de facto wage floor," he said.

Features

These Fortune 100 employers have at least 350 openings each. What are they looking for in a new hire? More

It would be the world's second-biggest economy. See how big companies' sales stack up against GDP over the past decade. More