GM to sell Saturn to Penske
Penske Automotive Group, owned by racecar legend Roger Penske, will buy GM's castoff brand.
Photos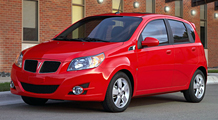 Find your next Car

NEW YORK (CNNMoney.com) -- Bankrupt automaker General Motors Corp. announced Friday that it will sell its Saturn unit to car dealership operator Penske Automotive Group.
Penske (PAG, Fortune 500) is owned by former race car driver Roger Penske, who owns NASCAR and IndyCar racing teams.
The deal gives Penske the rights to the 19-year old brand including its five different models. GM would continue production of only the three highest-selling models: the Aura sedan, and the Vue and Outlook cross-over SUVs, for the next two years. The Saturn Sky and Astra models will be discontinued.
Penske, which has no Saturn dealerships in its network, will act only as a distributor for Saturn cars and parts to the brand's dealer network. Like almost all car dealerships in the U.S., Saturn dealerships are independently owned businesses.
Penske has no plans to open any Saturn dealerships, said Anthony Pordon, senior vice president at Penske Automotive.
The arrangement is similar to the deal under which Penske distributes Daimler AG's tiny Smart car in the United States. Penske does operate a small number of its own Smart dealerships, however, in addition to handling wholesale deliveries of the car to other dealerships.
The deal, which GM expects to be completed in October, would save more than 13,000 jobs at Saturn and its roughly 350 dealers nationwide. All of Saturn's dealerships sell only Saturn vehicles, so they are reliant on the brand's continuation for their survival.
"There has been a groundswell of support for Saturn, with our retailers and owners urging us to save the brand," said Jill Lajdziak, Saturn's general manager. "We heard their call loud and clear, and it inspired us as we worked to secure Saturn's future."
Saturn's 51 Canadian dealerships are not part of the deal.
The sale is part of GM's strategy to shed its four "non-core" U.S. brands -- Saturn, Hummer, Pontiac and Saab -- as it restructures the company.
On Tuesday, GM (GMGMQ) announced a deal to sell its Hummer line to China's Sichuan Tengzhong Heavy Industrial Machinery Company Ltd.
In search for a maker: GM has said it would stop producing Saturn vehicles by 2011. To replace GM as the brand's manufacturer, Penske is in discussions with several global automakers. One likely replacement is Renault Samsung Motors of Korea, Automotive News reported.
"We have been in discussions on a worldwide basis with many people that have an interest in this marketplace," Penske said.
Penske indicated that the post-GM brand will focus on fuel economy. An expert said that move would likely return Saturn to its more successful roots of a lower-end, competitive-priced car company. Still, much will depend on the quality of cars that it sells.
"It's really going to depend on who Penske partners up with," said Jeremy Anwyl, CEO of Edmunds.com. "Even if it sells good, global-standard vehicles, Saturn will need to stand for more than just the retail experience."
Anwyl said Saturn had not been hitting its sales targets as it moved to better-quality -- but more expensive -- cars over the past few years. He said the no-haggle pricing turned off many potential buyers who thought that they could get a better deal elsewhere.
Saturn's new management: Penske said he wants Lajdziak to stay on at the company, and he also offered former Chrysler President Tom LaSorda a top spot at Saturn. Penske hired LaSorda in May as a consultant for the Saturn deal.
Lajdziak would not yet say if she would accept the position.
"My total focus every waking minute has been to get to this point, to get a memorandum of understanding," she told CNNMoney.com.
The Saturn brand has been highly rated in customer satisfaction surveys for its no-haggle policy. Though Saturn sales have slumped badly this year, the brand actually far outsold Buick and Cadillac in 2008, when it was GM's fourth highest-selling unit. GM has sold more than 4 million Saturns since 1990.
Roger Penske told CNNMoney.com that he's "happy" to get Saturn's 3.5 million customer base, though it's too soon to start talking about global growth for the company.
Penske Automotive is the nation's second largest auto dealer and currently sells over 40 brands at its 310 dealerships, half of which are in the United States. Shares of Penske rose 3% in afternoon trading.

Features

These Fortune 100 employers have at least 350 openings each. What are they looking for in a new hire? More

It would be the world's second-biggest economy. See how big companies' sales stack up against GDP over the past decade. More