More auto industry bankruptcies loom
Auto parts manufacturer trade group predicts widespread bankruptcies after the government rejects request for $8 billion to $10 billion in additional help.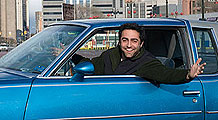 Detroit residents often are asked why they stay. 13 locals answer that question - and reveal their favorite treasures of the Motor City.
NEW YORK (CNNMoney.com) -- A plea by struggling auto parts makers for $8 billion to $10 billion in additional federal loan guarantees was turned down by the Obama administration's auto task force last week.
Neil De Koker, the CEO of the Original Equipment Suppliers Association, said Tuesday that widespread bankruptcies throughout the sector would likely result. Hundreds of suppliers are facing a cash crunch due to long production shutdowns at Chrysler and General Motors.
Because of their lack of cash, De Koker said he fears that many suppliers won't be able to ramp up production once Chrysler and GM start building vehicles again.
The request for loan guarantees from the Treasury Department was turned down by Ron Bloom, one of the key staff members of the auto task force, after two days of meetings in Washington last week, De Koker said.
A statement from a Treasury spokesperson confirmed that the administration did not grant the request for additional help for the auto parts sector, but said it would continue to monitor the situation.
Treasury helped structure the bankruptcies at GM and Chrysler so that their auto parts suppliers would be essentially paid in full for parts they had shipped to the companies. Normally during the bankruptcy process, unsecured creditors do not receive this level of protection.
Treasury also had approved up to $5 billion in federal guarantees in March for suppliers on money they were owed by GM and Chrysler.
But that program was to a limited group of about 300 suppliers, and it only guaranteed money owed for parts already shipped. With extended shutdowns, some suppliers no longer qualify for that help because they are no longer owed money by the automakers.
"There's no question Treasury has done a lot," said De Koker. "This is not whining. We're just very concerned there's just no money available from the banks and there won't be money for the suppliers to start production again when the (automakers) need parts."
De Koker said his members are lobbying members of Congress hoping they can convince the Obama administration to step in and provide more assistance.
Widespread bankruptcies and shutdowns at suppliers could affect not only efforts to restart assembly lines at GM (GMGMQ) and Chrysler, but could spread to Ford Motor (F, Fortune 500) and the North American plants of Asian rivals such as Toyota Motor (TM) and Honda (HMC), which also depend on those suppliers for their parts.
The auto parts sector employs far more workers than do the automakers at their own assembly plants -- an estimated 600,000 workers including those now on layoffs. There are almost five supplier jobs for every job on an automaker's assembly line.
It was the risk of widespread failures throughout the parts industry that prompted Treasury to agree to the $5 billion in loan guarantees for the industry in March.
The supplier sector has suffered 20 bankruptcies so far this year, said De Koker. Each has been under Chapter 11 of the bankruptcy code, which allows for continued operations and restructuring. But he said he's worried that Chapter 7 bankruptcies, which result in liquidation, will become more common in the coming weeks and months without additional funds by Treasury.
"Because of the shutdowns at Chrysler and GM, there hasn't been demand for cash for operations, so the suppliers have been hunkered down in order to survive," he said. "But as those (automakers') plants restart, the suppliers are going to need to buy raw materials, to hire back workers, and there's going to be increase in demand for money and they're not going to have it."
Brett Smith, director automotive analysis group at the Center for Automotive Research, a Michigan think tank, agreed with De Koker that many suppliers are essentially shutdown already. He said it is difficult to know how successful those companies will be coming out of hibernation.
"We've never seen this situation before, so we don't know if we can bring them back," Smith said.
Smith said that there clearly needs to be significant consolidation in the auto parts sector, even if it means more bankruptcies.
"It's going to be painful, but it's necessary," he said. "To say 'No more money' is probably not the right thing. But to say 'We'll save all of you' is also probably not the right thing."

Features

These Fortune 100 employers have at least 350 openings each. What are they looking for in a new hire? More

It would be the world's second-biggest economy. See how big companies' sales stack up against GDP over the past decade. More