Nasdaq posts 11th straight gain
Tech-heavy index in longest bull run since 1996 thanks to a positive reaction to Apple results. Dow and S&P end lower.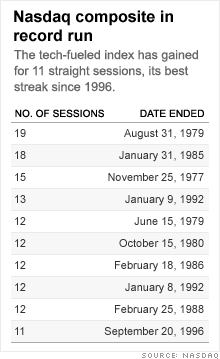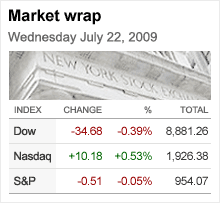 NEW YORK (CNNMoney.com) -- The Nasdaq gained for the 11th straight session Wednesday as investors welcomed Apple's profit results, but concerns about Boeing and Coca-Cola's profits dragged on the Dow.
The Dow Jones industrial average (INDU) lost 35 points, or 0.4%. The S&P 500 (SPX) index was little changed and the Nasdaq composite (COMP) gained 10 points, or 0.5%.
Stocks rallied Tuesday, with the Dow posting its highest close in six months as better-than-expected quarterly results overshadowed Federal Reserve Chairman Ben Bernanke's testimony on the economy. But the market was choppy Wednesday.
After drifting lower for four weeks straight, stocks have rallied in the last week. In the prior seven sessions, the S&P 500 gained 8.6% and the Dow gained 9.4%.
But stocks were choppy Wednesday, with only the Nasdaq extending the recent streak. The Nasdaq has risen for 11 straight sessions, gaining 10.3%.
Wednesday's action was a continuation of the uptrend of the last week or so, said Richard Campagna, chief investment officer at 300 North Capital.
Looking forward, "we're going to continue to have a stronger market punctuated by occasional periods like the backing and filling we saw in the previous month," he said.
Although the economic outlook remains shaky, conditions have stopped deteriorating, corporate profits seem to be gradually improving and there is still a lot of money on the sidelines ready to be put into stocks, he said.
Banks: Wells Fargo (WFC, Fortune 500) joined the parade of firms reporting surprisingly strong results this quarter. The company said it earned $3.17 billion, or 57 cents per share in the quarter, up 81% from a year ago and easily surpassing analysts' forecasts.
However, investors took a sell-the-news approach, sending shares 3.6% lower.
Morgan Stanley (MS, Fortune 500), however, reported a bigger-than-expected quarterly loss, due partly to a one-time charge related to paying back the billions in government loans it received as part of the bailout program last year. Shares ended little changed.
Techs: Apple (AAPL, Fortune 500) reported higher quarterly sales and earnings that topped forecasts in a report released late Tuesday. Strong sales of Macs and iPhones fueled the gains. Shares rose 3.5% Wednesday.
Yahoo (YHOO, Fortune 500) also released results late Tuesday. The Internet search behemoth reported better-than-expected earnings and in-line revenue, but said revenue from advertising slumped and third-quarter results and cash flow won't meet forecasts. After sliding in the morning, shares ended up gaining 3.5% Wednesday.
Advanced Micro Devices (AMD, Fortune 500) reported a wider-than-expected quarterly loss late Tuesday and a big drop in gross margins -- a key measure of profitability. Shares of the chipmaker plunged 13% Wednesday.
Other results: Dow component Boeing (BA, Fortune 500) reported higher quarterly earnings that beat forecasts on higher revenue that met forecasts. Shares fell 2.4%.
Boeing is one of the Dow's most influential issues. IBM (IBM, Fortune 500), United Technologies (UTX, Fortune 500), Caterpillar (CAT, Fortune 500) and Coca-Cola (KO, Fortune 500) were the other big losers.
Dow component Pfizer (PFE, Fortune 500) reported higher-than-expected quarterly earnings and also lifted its outlook for the rest of the year. Fellow drugmakers GlaxoSmithKline (GSK) and Eli Lilly (LLY, Fortune 500) also reported higher-than-expected quarterly results and boosted their full-year forecasts.
Shares of Dow component Coca-Cola fell one day after the beverage company reported higher-than-expected quarterly earnings and lower-than-expected revenue. On Wednesday, rival PepsiCo (PEP, Fortune 500) reported a bigger-than-expected quarterly profit.
Market breadth was mixed. On the New York Stock Exchange, winners beat losers four to three on volume of 650 million shares. On the Nasdaq, losers beat winners eight to five on volume of 1.56 billion shares.
Economy: One day after telling a House panel that the economy was starting to stabilize but that housing and labor markets remain strained, Bernanke mostly repeated his testimony before the Senate Banking Committee on Wednesday.
Bonds: Treasury prices slipped, raising the yield on the benchmark 10-year note to 3.55% from 3.49% Tuesday. Treasury prices and yields move in opposite directions.
Other markets: In global trade, Asian markets ended lower, with the exception of Japan's Nikkei. European markets ended mixed.
In currency trading, the dollar gained against the euro and fell versus the Japanese yen.
U.S. light crude oil for September delivery fell 21 cents to settle at $65.40 a barrel on the New York Mercantile Exchange.
COMEX gold for August delivery fell $1.90 to settle at $953.30 an ounce.

Features

These Fortune 100 employers have at least 350 openings each. What are they looking for in a new hire? More

It would be the world's second-biggest economy. See how big companies' sales stack up against GDP over the past decade. More