Wall Street rallies to best level of '09
Better-than-expected results from corporations fire up a big rally, lifting the Dow back above 9,000. Nasdaq extends win streak to 12 days.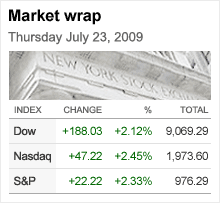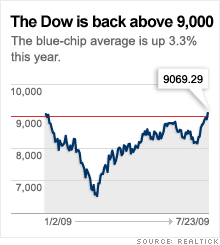 NEW YORK (CNNMoney.com) -- Stocks rallied Thursday, with the Dow jumping 200 points and hitting its highest point since November, as investors welcomed better-than-expected quarterly results and home sales.
The Dow Jones industrial average (INDU) gained 188 points, or 2.1%, closing at its highest point since Nov. 5. The S&P 500 (SPX) index added 22 points, or 2.5%.
The Nasdaq composite (COMP) gained 47 points, or 2.5%. The Nasdaq has now closed higher for 12 consecutive sessions, its longest winning streak since January 1992.
Treasury bond prices plunged, raising the corresponding yields, as investors pulled money out of the safe-haven and put it into stocks. The dollar gained versus other major currencies. Oil and gold prices rose.
Stocks have been on the rise for the last week-and-a-half, bouncing after a four week retreat, as better-than-expected corporate reports have surprised investors.
"You are seeing companies in large part beating expectations in just about every sector, and while revenues are coming in a bit lower in a lot of categories, we seem to be able to look past that," said Jamie Cox, managing partner at Harris Financial Group.
Cost-cutting has largely driven the earnings growth, raising concerns about what the second-half economic growth is going to look like.
"Somebody's cost cutting means somebody else's job," said Ben Halliburton, chief investment officer at Tradition Capital Management.
He said that rising unemployment and its impact on an already-strapped consumer suggests that expectations for a second-half recovery are overdone.
"There's really no place for a recovery if the consumer is still on the decline," he said.
Friday brings a revised consumer sentiment reading from the University of Michigan, but the report is not likely to move markets.
Microsoft and American Express should be active Friday, after reporting quarterly results after the close of trading.
Microsoft (MSFT, Fortune 500) reported weaker earnings that topped estimates and weaker revenue that missed estimates. The tech leader said its results were due to weakness in the global PC and server markets.
American Express (AXP, Fortune 500) reported a big drop in earnings due to the cost of paying back the loan it received from the government last year. However, the earnings still managed to top analysts' forecasts.
Results: Ford Motor (F, Fortune 500) reported a second-quarter profit due to its efforts to reduce debt. The automaker also reported an operating loss that was narrower than a year ago and smaller than forecast. Ford's drop in revenue was also narrower-than-expected. Shares gained 9.4%.
Ford is the only U.S. automaker that was not forced to declare bankruptcy last quarter, as a result of the slowdown in auto demand amid the recession.
Dow component AT&T (T, Fortune 500) reported quarterly sales and earnings that fell from a year ago but topped estimates. The telecom benefited from its exclusive contract with Apple, as strong iPhone sales boosted subscriber growth. AT&T shares gained 2.6%.
Fellow Dow component 3M (MMM, Fortune 500) reported weaker quarterly sales and earnings that topped estimates. Considered to be a bellwether for the economy due to the breadth of its businesses, 3M also lifted its forecast for full-year profit. Shares gained 7.4%.
AT&T (T, Fortune 500) and 3M (MMM, Fortune 500) were among the 27 Dow components that rose, with three falling.
IBM (IBM, Fortune 500), Johnson & Johnson (JNJ, Fortune 500), Verizon Communications (VZ, Fortune 500), Caterpillar (CAT, Fortune 500), Chevron (CVX, Fortune 500) and Exxon Mobil (XOM, Fortune 500) were among the big Dow gainers.
But another Dow component, McDonald's (MCD, Fortune 500), disappointed investors by reporting a bigger-than-expected drop in revenue and an in-line drop in earnings. Shares fell 4.6%. Wal-Mart Stores (WMT, Fortune 500) and Boeing (BA, Fortune 500) were the other two losers.
Other company news: Bristol-Myers Squibb (BMY, Fortune 500) said late Wednesday that it will buy biotech company Medarex (MDX) for $2.4 billion.
Amazon.com (AMZN, Fortune 500) said Wednesday it would buy online shoe retailer Zappos.com for $807 million.
Market breadth was positive. On the New York Stock Exchange, winners topped losers by over five to one on volume of 1.39 billion shares. On the New York Stock Exchange, advancers topped decliners by over three to one on volume of 3.13 billion shares.
Economy: The number of Americans filing new claims for unemployment rose to 554,000 last week from 524,000 in the previous week, according to a Labor Department report released Thursday morning. Economists thought claims would rise to 557,000, according to Briefing.com estimates.
June existing home sales rose to a 4.89 million unit annual rate from a revised 4.72 million unit rate in May, according to the National Association of Realtors. Sales were better than expected, with economists forecasting sales would rise to a 4.85 million annualized rate.
The median home price continued to slide, falling 15.4% versus a year ago.
Bonds: Treasury prices tumbled, raising the yield on the benchmark 10-year note to 3.66% from 3.54% Wednesday. Treasury prices and yields move in opposite directions.
Other markets: In global trade, European markets gained late in the day, while Asian markets ended higher.
In currency trading, the dollar gained against the euro and the Japanese yen.
U.S. light crude oil for September delivery rose $1.76 to settle at $67.16 a barrel on the New York Mercantile Exchange.
COMEX gold for August delivery rose $1.50 to settle at $954.80 an ounce.

Features

These Fortune 100 employers have at least 350 openings each. What are they looking for in a new hire? More

It would be the world's second-biggest economy. See how big companies' sales stack up against GDP over the past decade. More