Retail's rising star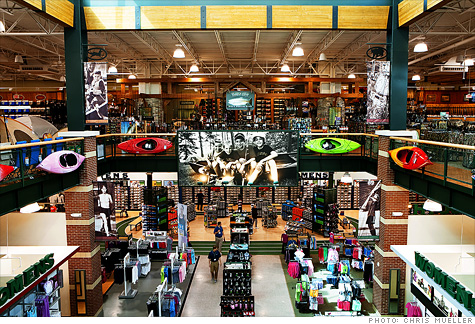 (Fortune) -- When a thunderstorm pelts the suburbs of Washington, D.C., there aren't many places where you can practice your golf swing.
But Richard Cottingham, a 46-year-old auto mechanic and self-described golf nut, knows one of them: Recently he was happily pounding balls into a video simulator at a Dick's Sporting Goods (DKS) store near Dulles airport.
"I come here a lot," he says. So does 10-year-old Ayham Hasan, who is checking out fishing gear with his twin sister and 11-year-old brother. "You can get everything here -- stuff for fishing and canoeing and paddling and all the things I need for soccer," Ayham says. His dad, Maher Hasan, a 50-year-old engineer with Sprint Nextel, leaves with rods and reels for all three kids.
If you like sports, it's hard not to like Dick's.
Stores like the one near Dulles, a brightly lit, two-level, 80,000-square-foot emporium, are staffed by jocks and packed with about 27,000 different items, everything from beach toys to casual cotton shirts to guns and ammo. Sports enthusiasts like Cottingham and the Hasan clan helped Dick's tally $4.4 billion in sales in 2009, up 6.2% from a year earlier -- enough to break into the Fortune 500 for the first time, at No. 466.
While same-store sales dipped slightly, the company kept a lid on costs and produced earnings of $135 million, compared with a loss of $40 million the year before, when the economy tanked. That was the only year Dick's has lost money since going public in 2002.
Ed Stack, the company's 55-year-old chairman and chief executive, hates losing -- money or anything else. He is a demanding boss who likes to say that Dick's, much like a great athlete, must constantly strive to get better. "One of the things we've always tried to do is learn from our mistakes, and never fall in love with ourselves," he says.
But Stack was pleased with the numbers that Dick's put on the board in 2009, a year when shoppers were reluctant to spend and most retailers struggled: "Under the circumstances, we'd give ourselves pretty high marks."
His shareholders would surely agree. Since the company went public in October 2002, shares in Dick's Sporting Goods have grown in value by 642%. During the same period the S&P 500 has risen 35%. Wall Street likes the company too. Robert "Robbie" Ohmes, a research analyst with Bank of America Merrill Lynch, rates Dick's a buy and expects earnings to grow by another 12% this year. "It's always been one of the best-managed retailers in my universe," he says.
Although Americans are getting older, fatter, and more sedentary, sporting goods remains a big business. According to the National Sporting Goods Association, consumers spent $52.3 billion last year on equipment, footwear, and apparel.
But selling sneakers and golf clubs is harder than it looks, which is why previous efforts to build a big-box category killer in sports have generally failed. Herman's went bankrupt. A big French retailer known as Decathlon flopped in the U.S. And Sports Authority, the second-biggest chain after Dick's, went private after its stock performed poorly.
The industry is fragmented and highly competitive. Crowding the field are discounters Wal-Mart (WMT, Fortune 500) and Target (TGT, Fortune 500), which sell lots of soccer balls, cleats, and eye-black; regional sporting goods chains like Modell and Big 5; outdoorsy outfitters like Cabela (CAB) and REI; and mall stores like Foot Locker (FL, Fortune 500).
Dick's approach? Cater to serious sports or outdoor enthusiasts, and their families, who want a big selection, superior service, and an enjoyable shopping experience. Each Dick's has "stores within the store," such as the Golf Shop, the Lodge, and Perfect Season (for whatever team sport is being played). The idea is to compete with even specialty golf and running shops, as well as the mom-and-pop stores on Main Streets across America.
Dick's began as one such store, a modest bait-and-tackle shop that Richard Stack opened in 1948 in his hometown of Binghamton, N.Y. The story goes that Dick, an avid fisherman who worked as a salesman at an Army-Navy store, wanted to sell fishing gear there. But his boss told him that he didn't know what he was doing and it was a silly idea. Dick Stack was only 18 at the time, but his grandmother lent him $300 from her cookie jar to start his own place.
His oldest son, Ed Stack, grew up in the business.
"Our garage was an extra warehouse," he says. There were three topics at the family dinner table, he recalls: the New York Yankees in the summer, the New York Giants in the winter, and the business anytime of year.
In 1984, after earning an accounting degree from St. John Fisher College in Rochester, N.Y., Ed took over the company's two stores in upstate New York when his father fell ill with heart disease. (Dick Stack died in 1998.)
People who know Dick's says it still feels like a family business, even though the company now employs about 18,000 people. Dick's is similar to Nike, says Gary DeStefano, president of Nike Global (NKE, Fortune 500), because "they have [the son of] a founder as a leader. Having that family presence is a huge asset. The company's success is not just business -- it's personal."
Ed Stack controls about two-thirds of the voting shares in Dick's and owns about 25% of its common stock, worth about $800 million. But there was a time when Ed almost lost it all.
In his first decade as CEO, Dick's expanded rapidly -- a little too rapidly. The company more than doubled in size, from 18 to 40 stores, soon after moving its headquarters from Binghamton to Pittsburgh in 1994 to prepare for a national rollout.
"We didn't manage the balance sheet as well as we needed to," Stack says. "We had to go to the banks on bended knee. It was a near-death experience that we never forgot."
The hard-learned lesson, he says, is that "there's more to a business than just growing sales." Since then Dick's has added stores at a more conservative rate of about 15% a year. It now operates 420 stores and says it hopes to grow to about 800 someday.
Taking a deliberate approach proved wise for other reasons too. "We've grown in concentric circles," Stack says, moving from upstate New York into Pennsylvania, Ohio, Michigan, and the Carolinas. "If you make mistakes, the mistakes are smaller and more localized. You can identify and fix them."
That points to one of the challenges facing anyone who wants to build a national sporting goods chain: Unlike other categories that have spawned big-box successes, sports is a regional business. Best Buy (BBY, Fortune 500) sells the same DVDs and Staples sells the same office supplies everywhere. Not so Dick's -- fishing lures for catfish and bass do well in Texas, but anglers near the Chesapeake Bay set their hooks for saltwater fish.
Timing is crucial too: Bats and gloves sell in Florida before Christmas, but they don't move off the shelves in Buffalo until just before Easter. If you stumble -- too many bats in the winter, too few fishing lures in the South -- you lose bigtime.
Dick's is good at sweating such details. It has the highest inventory turns in the sporting goods industry, so nothing sits on shelves too long. That requires timely and detailed data about shopping patterns. "Our chief technology officer is like the left tackle of a football team," says Stack. "Without him, everything else breaks down quickly, and it becomes painful."
The rest of the team has been pretty helpful too. Some executives are longtime insiders -- Stack's college roommate, Bill Colombo, was president and COO until recently -- but most come from other successful retailers, like Staples (SPLS, Fortune 500) and PetSmart (PETM, Fortune 500). The board is made up almost entirely of retailers, including CEO Brian Dunn of Best Buy; CEO Emanuel Chirico of Phillips Van-Heusen (PVH); David Fuente, the former CEO of Office Depot (ODP, Fortune 500); Walter Rossi, the former CEO of Mervyn's; and Larry Stone, the president of Lowe's (LOW, Fortune 500).
Recently Dick's moved into a new headquarters complex adjacent to the Pittsburgh airport. It's built for play as well as work, with basketball and tennis courts, a soccer field, indoor and outdoor running tracks, and a fitness center that offers yoga, spinning, and kickboxing classes.
"We are all absolutely passionate about sports," says Jeff Hennion, the company's head of marketing. "It's a driven culture, very competitive."
No one is more competitive than Stack, who played high school baseball and football and is now a runner, an expert skier, and quite possibly America's best CEO golfer -- his handicap is 4.8.
Three years ago Dick's acquired 65 Golf Galaxy specialty stores, making the company by far the largest golf retailer in America, as well as the second-biggest employer of PGA pros.
Another key to Dick's success is its emphasis on private labels. The company is developing its own products and sourcing them from suppliers, most in Asia. (Dick's has an office in Hong Kong.) Dick's has licensed the Adidas brand, for instance, and created a line of Adidas baseball bats and gloves that didn't exist before. It's the exclusive licensee for the Umbro soccer brand in the U.S.
The company also makes products that it sells under the Maxfli, Slazenger, and Field & Stream brands. Profit margins are higher for the private brands, which account for about 15% of sales.
Not surprisingly, Nike and Under Armour, which are the bestselling brands at Dick's, aren't happy about competing with Dick's labels. But they can't complain too vociferously because they are building retail stores that compete with Dick's.
Under Armour, for instance, operates about 40 outlet stores, four retail stores and a website. Kevin Plank, the founder and CEO of Under Armour, says he thinks of Ed Stack as a business partner and a friend even though their companies compete in a limited way. "It keeps everybody honest," he says. "It's not like we have nukes pointed at each other, but we're definitely very aware that they need us and we need them."
What's next?
Ed Stack and his team would like to see Dick's Sporting Goods become a brand that resonates with athletes the way Nike and Under Armour do. The company runs lots of commercials on ESPN and the Golf Channel, some featuring stars like Lance Armstrong and Ken Griffey Jr. Dick's also sponsors lesser-known competitors, like professional angler Mike Iaconelli, winner of the 2003 Bassmaster Classic. Iaconelli formerly managed a fishing department at a Dick's store in Moorestown, N.J.
You may not be helped by a professional angler or PGA pro if you visit Dick's, but if you don't get good service and a friendly smile, Stack will be disappointed. "We need to make sure we continue to recruit, train, educate, and retain really good people," he says.
Shoppers know they can find a cheaper basketball or pair of sneakers at a discounter. "If it's all about price," Stack says, "eventually we lose." And Ed Stack, as we said, hates to lose.
Correction: In Retail's Rising Star, we incorrectly reported that Kevin Plank, the founder and CEO of Under Armour, described Dick's Sporting Goods as a competitor.