Ellen Kullman's quest to make DuPont great again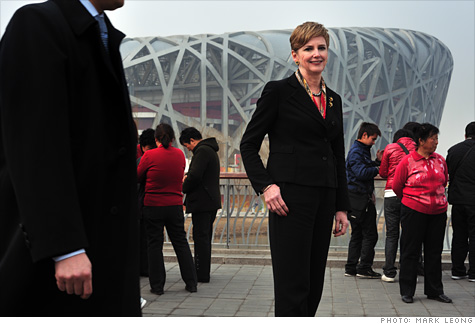 (Fortune) -- The announcement that Ellen Kullman would rise from DuPont's executive ranks to CEO within weeks couldn't have happened at a worse moment. It was made in the historically terrible month of September 2008, when, as Kullman says, "the world fell apart." For her, the year that followed was somber, matching the gray-to-black national pattern. She oversaw two restructurings, regretfully dismissed thousands of employees, and asked the rest to take a two- to three-week holiday without pay. Kullman, 54, never lost her ready sense of humor nor her laugh, which is big and ringing. But for sure, little about her first year was a laughing matter.
Last Nov. 3, Kullman implicitly shoved those days behind her and moved on. Speaking to analysts and investors in DuPont's Delaware hometown, Wilmington, she made an unanticipated commitment: Given a measured economic recovery, DuPont (DD, Fortune 500) expects to increase per-share earnings by an average annual compounded rate of at least 20% over the three-year period 2010 through 2012.
If we assume this target is hit, success needs to be kept in perspective. In 2009, DuPont earned $1.92 per share (compared with a recent stock price of $39). If the $1.92 is to be compounded by an average 20% per year, earnings in 2012 must at least hit $3.32. That would still leave DuPont a bit short of the $3.38 it made four years ago, in 2006, when recession was only a shadowy threat.
At the same time, it's hard to regard Kullman's goal as in the bag, because streaks of good earnings have long been rare at this enterprise. In the past 50 years only four of the nine CEOs who preceded her managed to pull off the three-year, 20% gains she's talking about. And not a single one of those men managed in the fourth year to post a gain -- of any size.
Kullman's earnings quest is also an apt metaphor for her broader challenge as CEO: to restore the prestige of one of the most illustrious and innovative companies in American history. In truth, DuPont's legacy is so glorious that no CEO seems likely to restore it. But if Kullman can jolt profits, she can give DuPont a momentum it hasn't had for decades.
Dupont's decline is visible in the Fortune 500. The company ranked 10th in the first list, in 1955. Today it's 86th. Not that there's anything wrong with that, to quote the old Seinfeld line. With $27 billion in revenues and $1.8 billion in profits, DuPont remains both a major multinational and the corporate home of celebrated brands such as today's hits: Kevlar, Nomex, and Tyvek.
A half-century ago, it would have been almost impossible to overstate DuPont's importance. It had, and still has, the richest history in corporate America. Founded on the banks of Delaware's Brandywine River in 1802 -- if you're counting, that's 208 years ago -- DuPont grew up with this country. Its founder, Eleuthère Irénée du Pont, and Thomas Jefferson were friends and correspondents, and E.I. and his descendants (who call themselves "du Pont," while the company now renders the name "DuPont") became corporate royalty and a dominant force in Delaware. Du Ponts and their inlaws ran the operation for 165 years before ceding the reins to non--family members.
The company grew rich from gunpowder in its first century, and in the second transformed itself into a chemical manufacturer and investor. For years DuPont controlled General Motors and, when trouble hit, put Alfred Sloan in to run it. DuPont gave us nylon before World War II and helped bring that conflict to an end by building uranium and plutonium plants for the Manhattan Project.
Even its slogan -- "Better things for better living ... through chemistry" -- was famous. Similarly, the DuPont Way of Doing Business connoted efficiency and sensational profit margins that exceeded 20% in the early days of the Fortune 500 (and that were beaten by very few companies). Businessmen came to Wilmington for daylong tutorials on DuPont financial concepts. Warren Buffett remembers sitting through one in 1967, in company with a Berkshire Hathaway (BRKA, Fortune 500) textile executive who was a rayon customer of DuPont's.
But by that time, in a point not stressed in the tutorials, competition and diminished payoffs from its research dollars had chiseled away at DuPont's imperial margins.As if they were on some long, gentle ski run, the margins slowly dropped, even dipping below 4% in the mid-1970s. The norm today is respectably higher: between 6% and 11% over the past five years. Still, the past few decades have largely taken DuPont out of the public conversation and exposed it for what it is: a cyclical-in-spots, inordinately complex, research-oriented conglomerate fighting for every dollar of profit it can get.
Nothing puts DuPont's position in starker relief than a comparison of its total return (stock appreciation plus dividends) against those of the 19 corporations identified in its proxy statement as its "peer group." The 19 include companies having at least some reputation for technology and science research, among them 3M (MMM, Fortune 500), Procter & Gamble (PG, Fortune 500), Abbott Laboratories (ABT, Fortune 500), and Monsanto (MON, Fortune 500). (Don't look for Dow (DOW, Fortune 500) on the list: DuPont sees it as too chemical and too commodity.)
Over the past 25 years -- as well as the past five, 10, 15, and 20 -- DuPont ends up third from the bottom of the list. The company (buoyed, as is the whole group, by the bull market that sustained most of this period) had an annualized return of 9.45% for the 25 years. That sounds decent; bull markets do help. But the return puts DuPont miles below the list's leader, Johnson & Johnson (JNJ, Fortune 500), at 16.5%. More telling, only Motorola (MOT, Fortune 500) and Eastman Kodak (EK, Fortune 500) had worse records than DuPont, and who wants to be grouped with them?
Some might blame at least part of this underperformance on more than a decade of reinvention. These days DuPont regards itself as a "science company," one that is ardently "green" in thinking. Most of this reinvention was driven by Kullman's predecessor, Charles "Chad" Holliday Jr., a personable Tennessean who was CEO from 1998 through 2008. He talked merger with Monsanto for a bit, then swerved into buying and selling businesses as if he had a compass in his hand that pointed every direction except where DuPont had been. Sold:Conoco, pharmaceuticals, and -- most traumatically -- the hallowed core of the company, nylon and textiles. Bought: seed producer Pioneer, an enterprise that put DuPont into an entirely new business, one dominated by the same company, Monsanto, with which DuPont had discussed a merger. The logic of the 1999 Pioneer purchase was that there is only so much arable land in the world; yields on it need to be maximized, and DuPont has the scientific talent for the work.
For shuffling the deck so vigorously, Holliday is sometimes viewed within DuPont as a "visionary." But if his concept of creating a sustainable company is to pay off, it will be Kullman or someone else who makes that happen. In Holliday's nearly 11 years as CEO, from start to finish, DuPont's stock fell from $57 to $25. Solid dividends undid some of that damage (DuPont has not missed a payout in more than a century) but not enough to cure the pain.
The person charged with consigning this sorry record to the ashcan is Kullman, a savvy operator who appears to be proving that you can go home again. Born Ellen Jamison, she grew up in Wilmington, where she captained her basketball team at prep school Tower Hill and was a math whiz as a student. But as an 18-year-old, she "hated" Wilmington, she says, because she found it claustrophobic. Her parents always knew what she was doing. And with 26 first cousins on her mother's side alone, she seemed to have family everywhere. So she fled north to college, earning a mechanical engineering degree from Tufts.
After graduation, working as a Westinghouse sales representative near Chicago and covering such establishments as U.S. Steel's famous Gary, Ind., plant, she got her first dose of big business and dealing with customers. She loved it but soon recognized that she had large gaps in her knowledge -- how to price, for example. So she signed up for night classes at Northwestern's Kellogg business school, working days to finance her tuition. There she met Michael Kullman, a University of Missouri civil engineering graduate who was a full-time day student at Kellogg -- "running up debt," she laughs, "that I eventually helped him repay."
Ellen and Mike married and became a dual-career couple, both joining General Electric (GE, Fortune 500) in 1983 as marketing trainees. Ellen was soon made an assistant to Charles Sheehan, a vice president of corporate strategy who was a troubleshooter for a doughty pair, CEO Jack Welch and vice chairman Ed Hood. Kullman, then 28, occasionally sat in on meetings with the two and says she soaked up knowledge about how GE made things work. (Both men say they have no real memory of her.)
Her retired boss, Sheehan, sounding a bit bowled over by how far this kid has gone, recalls her as "very young" when she worked for him but also energetic, gifted, and sure of herself. He remembers one night when a GE group was meeting customers for dinner in Tokyo and was running late. Kullman sped upstairs to her hotel room and raced back with freshly washed hair that Sheehan remembers as just short of dripping. He thought to himself that she must have "enormous self-confidence" to go out looking like that. And that evening, he says, she was just "dynamite" with the customers.
DuPont came into the Kullmans' picture after both became marketing managers in 1986 for GE's medical systems business in Milwaukee. Ellen's marketing responsibility was CT scanners, and the product brought her in touch with people in DuPont's medical imaging business, who offered her a marketing manager post. She was intrigued, partly because she and Mike, then jointly anchored in one division, were starting to bump into each other and to realize that one of them was probably going to end up working for the other someday. They figured she could join DuPont, and he could land at another Wilmington company or in a nearby city, like Philadelphia. But DuPont pointed out that it had 15 different businesses based in Wilmington. Why couldn't Mike work for one that had nothing to do with Ellen's? And so he did, taking a marketing post in another DuPont division. You might judge it a totally rational plan, as long as one Kullman or the other didn't rise to the corporate executive suite.
That's how Ellen and Mike, in 1988, both settled in for the long term at DuPont. He is a director of corporate marketing today, a job requiring him to, among other things, cogitate about DuPont, the brand. He also has uncontested seniority in judging his wife's ability to set goals and meet them. Recalling their Kellogg days, he says, "From the start, she had a huge capacity for work. She was full of energy and very directed. Her strongest ability, I'd say, is just getting things done." That talent, he adds, extends today to balancing a family with three kids -- they have a daughter at Tufts and twin boys studying (and playing basketball) at Tower Hill -- and also happens to make her the polar opposite of a procrastinator: "I've become more familiar with to-do lists for both of us than I ever thought I would be," he laughs.
Chad Holliday says he first met Ellen Kullman around 1990 when she came with a team from the medical imaging group to visit the DuPont Japanese operations he was running. Seeing she'd come into the company with rank, he marked her as a comer. Later, when Holliday assumed responsibility for a big global product, titanium dioxide, and she became a candidate to run the business, he successfully backed her even though she lacked some obvious qualifications, like experience in heavy chemicals. Still later, he chuckles, he watched her bid her kids good night while she was doing nighttime videoconferences from home.
After becoming CEO in 1998, Holliday asked Kullman to leave the titanium dioxide business, where she'd done very well, and start up a group that would advise customers on safety and protection. The risk for Kullman was clear. "Absolutely everybody, including my husband, told me I'd be better off staying in my current job," she told Fortune in 2008. But she thought the safety and protection field could prosper at DuPont and made the move. A good call, that. The new consulting business blossomed under Kullman and picked up speed after 9/11.
The safety and protection unit, with her at its head, became one of five "growth platforms" that Holliday established in 2002. (The others were agriculture and nutrition, home of Pioneer; coatings and color technologies, which included automobile finishes; electronic and communication technologies, among them components for solar panels; and performance materials, such as resins and laminated glass.) Kullman oversaw three franchise brands: Kevlar and Nomex, fibers used in protective gear like body armor or firefighting uniforms, and Tyvek, a nonwoven insulating material for houses that became visually ubiquitous during the homebuilding boom (and that led a widow friend of this writer to sigh, "If only I could meet Mr. Tyvek").
The heads of Holliday's five "growth platforms" gave a presentation in 2002 on the occasion of the company's 200th anniversary, and today one DuPont staff member describes Kullman as the standout. "She has a way of speaking that is compelling, and she painted a picture that people believed of how her business was going to grow," this staff member says. "That's when I knew it, that she was going to be CEO one day." Kullman did in fact keep starring as head of the division for four years, increasing revenues and pretax profit steadily.
In the early years of the decade, Kullman also built a reputation for herself by joining with a colleague to lead a companywide drive to improve DuPont's pricing skills, which were virtually nonexistent and were eroding margins. The very word "pricing" instantly carries Kullman back tothe marketing training she got in Kellogg's night school and its add-on value for Ellen the engineer. Applying both disciplines to an analysis of DuPont, she concluded it had a "fundamental skills gap" in pricing and wasn't getting full value for the innovation it was providing customers.
But, as she points out, telling someone you want to raise his price doesn't elicit the response, "Gee, that's nice." So her team set up worldwide training programs for everyone who touches pricing at DuPont. "We taught what a marketing manager needed to do," she says, "what a sales manager needed to do, what the salesman's job was." And, of course, she adds, pricing is a different problem when the market is doing well from when it's not. In an up market, where the customer recognizes that you have raw material costs to pass along, raising prices can be relatively easy. But when the "raws" come down, she says, the customer wants prices to fall also.
Kullman's campaign has paid off, and DuPont has vastly improved its pricing skills -- even when the economy has been struggling. In 2008 the company was able to increase its prices faster than then-surging raw materials, and last year it managed to keep ahead on prices even as its costs fell.
In style, Kullman doesn't resemble an imperial CEO, partly because she remembers that she had to lay off 4,500 employees during her first year. Free to use DuPont's planes on personal trips if she wants to, she has instead booked her family on commercial flights for most vacations (and was not long ago spotted in a crowded airport waiting to board). Moreover, earlier this year she asked DuPont's board to lower her 2009 incentive pay from $1.7 million to $1.5 million. Asked to explain, she referred to the recession's hard licks: "I think that whenever changes are that horrific, I should participate in some way." The action, she says, took note of not only the sacrifices made by DuPont's employees but those of the company's shareholders as well.
At the least, the restructurings have left DuPont lean and therefore geared up to make those 20% earnings gains. Kullman argues that the company is stronger now for having so painfully tightened its operations. "That's my story," she says, "and I'm sticking with it."
But since many companies have renounced earnings guidance, it is worth asking why Kullman decided to advertise her expectations. She gives the questioner her complete attention, a Kullman trademark. She perhaps listens more closely than anyone the interviewer has ever run into. And then the answer: The reason for articulating the goals, she says, is that DuPont's royalty and licensing income from two hypertension drugs called Cozaar and Hyzaar is running out. That income was $1 billion pretax in 2009, and it is dropping fast. Were Wall Street's analysts left to their own ruminations, Kullman says, they would think that DuPont's earnings could not possibly rise, and might actually drop. So it is important, she argues, to make the case that DuPont not only can earn enough to offset the loss of that income but also has every intention of delivering its 20% gains.
The increases, the DuPont playbook says, are mainly to be drawn from four "megatrends." The first is the world's need for food, a case on which Pioneer will focus. The second is its need to migrate away from fossil fuels; DuPont has photovoltaics for solar panels and two biofuels to throw at this problem. The third is the protection of people, assets, and the environment, which ropes in not only the safety and protection division but also DuPont chemicals of various kinds.
The fourth is growth in emerging markets, where DuPont is already strong. The company gets about $8 billion in revenues, 30% of its total, from these regions, and it is aiming for 35% by 2012. DuPont's revenues in both China and Latin America have been growing by more than 15% a year. In a macabre point, murder makes for a growth opportunity in Brazil, where there are around 40,000 killings a year: DuPont's Sentry-Glas and Kevlar combine to make a product called Armura, which shields cars, at a cost of about $10,000 a vehicle.
Pioneer is another business that Kullman is counting on for profits. This subsidiary, once an uncertain earner, is still way behind Monsanto in genetically modified seeds, and is in fact in constant legal battle with Monsanto over this product. But Pioneer has meanwhile been a lifesaver for DuPont in the recession because it is not cyclical, whereas almost every other part of the company is. Between 2007 and 2009, Pioneer's revenues jumped by 22% to $8.3 billion, while its pretax operating profits rose by 37% to $1.2 billion. DuPont's plan calls for Pioneer to generate revenues of about $11 billion by 2012 and pretax operating profits close to $2 billion.
DuPont's recent 10-K filing with the SEC predicts all of its businesses will enjoy improved results in 2010, helped by their cost cutting -- still going on -- and a better economic climate. No doubt "pricing" will stay on the agenda.
In Kullman's snappy three-year scenario, there is no telling what new products might take off and make a difference. On this front she has the full-out help of Thomas Connelly, chief innovation officer (and a onetime contender for the job Kullman won). He has been working for years to speed the passage of DuPont's product innovations from lab to market. "My rallying cry," Connelly says, "is 'Launch fast and ramp hard,' " a strategy intended to get the company to peak revenue as quickly as possible. By his calculations, nearly 40% of DuPont's revenues last year came from products introduced within the past five years. That proportion is double the rate of a few years ago.
Most of those products did not come from the "pure science" loved in many labs, including some of DuPont's over the years. Instead, what Kullman and Connelly have embraced is "market-driven science," which means delivering the products customers need. It is indeed intriguing to think of Kullman meeting with a customer to determine exactly what DuPont can do for his business and listening, as she does, with total intensity. A buyer sitting across the table from Kullman and asking for the moon might not know whether he was going to get it, but for certain he would know he had been heard.
One longtime DuPont board member, William Reilly, a former administrator of the Environmental Protection Agency, is totally convinced that Kullman can achieve her goals: "I think," he says, "that she is exactly the right person at this time. She has a reputation -- even among people I talk to outside DuPont -- as someone who executes."
Kullman herself has a view of her job that's not remotely as short term as her three-year ambitions. "I hope to be here a long time," she says. That would appear to be more of the confidence that's been on display for decades and that has a chance of edging this company back toward its better days.