AdMob's Omar Hamoui: Putting ads into apps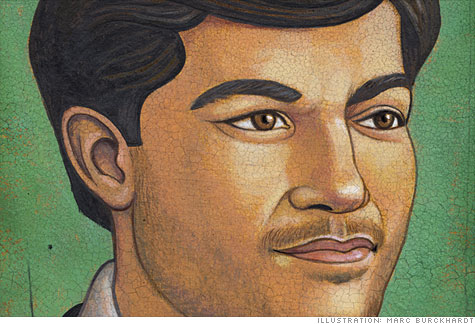 FORTUNE -- In case you haven't noticed, the relationship between Apple (AAPL, Fortune 500) and Google (GOOG, Fortune 500) is starting to get a little frosty. One person at the center: Omar Hamoui, the founder of mobile ad network AdMob, which places ads in apps. Both companies made aggressive bids for AdMob last fall, but Google won out, forking over $750 million in stock. That makes Hamoui a pioneer in an exploding new industry -- and a likely contender for Fortune's 2010 40 Under 40 list.
It's been quite a ride for the soft-spoken 33-year-old, who founded AdMob four years ago -- back when an app was still something you ordered before your entrée. Then a student at Wharton, Hamoui had built a mobile social-networking website but couldn't get it distributed. To win users, he had to advertise on the web and hope people found his site on their phones, but the conversion rate was dismal. Wouldn't it be more efficient, he thought, if there was a Google-like platform that let publishers and advertisers connect right on the phones? Six months after launching his marketplace in January 2006, he took an investment from VC firm Sequoia, dropped out of Wharton, and moved his family to Silicon Valley.
Now come the challenges. Apple recently changed its terms of service so that only independent ad networks can serve ads in iPhone apps, a rule all but designed to eliminate one-third of AdMob's traffic. Hamoui blasted Apple publicly. But there's more to the smartphone business than the iPhone. As he settles into his new office in Mountain View, Hamoui is already making plans to dominate the fast-growing Android market.