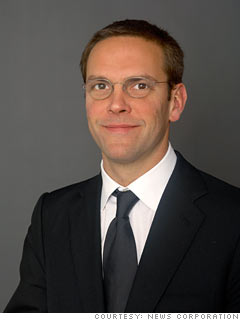 Chairman and CEO, Europe and Asia, News Corp.

Age: 36
Marital status: Married
Highest Education: High school
Rupert Murdoch's youngest son (and only grown offspring in an executive role at News Corp.) now oversees the company's newspaper, broadcasting, and satellite businesses in Europe and Asia. All this has made James the central international figure in the most global of the media giants -- not to mention the likely successor to take over his father's empire.
Enemy
: The BBC and all publicly funded broadcasters, whom Murdoch openly rails against.
Executive quirk
: Raised the legs of his desk to let him work and use his computer standing up.
NEXT: Aditya Mittal
Last updated March 26 2010: 10:26 AM ET
Note: To be eligible for Fortune's 40 under 40, candidates had to be 39 or younger on Nov. 1, 2009.
List compiled by Alyssa Abkowitz, Maha Atal, Katie Benner, Scott Cendrowski, Lawrence Delevigne, Telis Demos, Jessi Hempel, Suzanne Kapner, Mina Kimes, Beth Kowitt, Jessica Shambora, Richard Siklos, Kim Thai, Christopher Tkaczyk and Jia Lynn Yang. Research by Marilyn Adamo and Doris Burke.