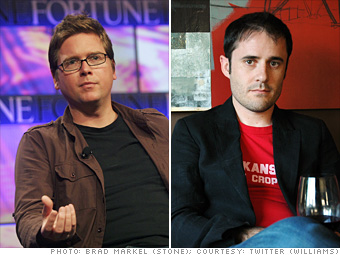 Co-Founders, Twitter

Ages: 35 and 37
Marital status: Both are married
Highest Education: High school (for both)
The microblogging service has amassed 21 million monthly unique U.S. visitors in under four years. It became so critical to the dissemination of news during elections in Iran this year that the U.S. government asked Twitter to postpone a scheduled upgrade.
The only thing missing? A business model. Its founders, Williams and Stone (a third, Jack Dorsey, is still chairman), aren't in a rush. But with a fresh round of capital raised at a $1 billion valuation, their investors might be.

Track record: Williams sold blog service Blogger.com to Google in 2003.

NEXT: Tiger Woods

Last updated March 26 2010: 10:26 AM ET
Note: To be eligible for Fortune's 40 under 40, candidates had to be 39 or younger on Nov. 1, 2009.
List compiled by Alyssa Abkowitz, Maha Atal, Katie Benner, Scott Cendrowski, Lawrence Delevigne, Telis Demos, Jessi Hempel, Suzanne Kapner, Mina Kimes, Beth Kowitt, Jessica Shambora, Richard Siklos, Kim Thai, Christopher Tkaczyk and Jia Lynn Yang. Research by Marilyn Adamo and Doris Burke.