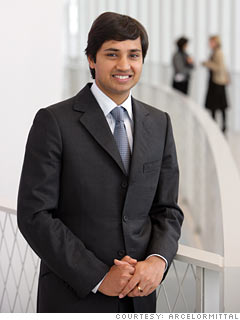 CFO, ArcelorMittal

Age: 33
Marital status: Married
Highest Education: Bachelor's degree
Many an heir has been accused of not paying his dues, but the son of Indian steel tycoon Lakshmi Mittal cut his teeth as an investment banker at Credit Suisse First Boston, then joined his father in 1997--and worked his way up to become the company's well-respected CFO.
He's led a strategy of growth by acquisition, most notably orchestrating the $38 billion takeover of European rival Arcelor. Now he has to reduce the company's debt by $10 billion.

New duties: In May he joined the board of French luxury goods firm PPR.

NEXT: Biz Stone and Evan Williams

Last updated March 26 2010: 10:26 AM ET
Note: To be eligible for Fortune's 40 under 40, candidates had to be 39 or younger on Nov. 1, 2009.
List compiled by Alyssa Abkowitz, Maha Atal, Katie Benner, Scott Cendrowski, Lawrence Delevigne, Telis Demos, Jessi Hempel, Suzanne Kapner, Mina Kimes, Beth Kowitt, Jessica Shambora, Richard Siklos, Kim Thai, Christopher Tkaczyk and Jia Lynn Yang. Research by Marilyn Adamo and Doris Burke.