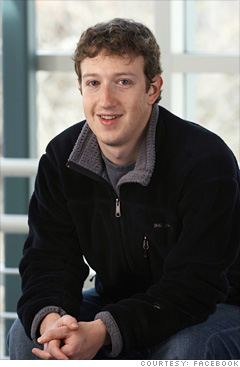 Founder, Facebook

Age: 25
Marital status: In a relationship
Highest Education: High school
The Harvard dropout's social-networking site now has 300 million members and a valuation of $10 billion. Even as other social networks came and went (many with far snazzier design), Zuckerberg held firm to his vision for a virtual network that mirrored our physical relationships. He maintains a majority stake and tight control over the five-person board.
In 2008 he hired Sheryl Sandberg, 40, away from Google to help him make money; this year revenues are expected to double to more than $500 million. (Profit, they hope, is next.)

Early business card title: "I'm CEO, bitch."

NEXT: James Murdoch

Last updated March 26 2010: 10:26 AM ET
Note: To be eligible for Fortune's 40 under 40, candidates had to be 39 or younger on Nov. 1, 2009.
List compiled by Alyssa Abkowitz, Maha Atal, Katie Benner, Scott Cendrowski, Lawrence Delevigne, Telis Demos, Jessi Hempel, Suzanne Kapner, Mina Kimes, Beth Kowitt, Jessica Shambora, Richard Siklos, Kim Thai, Christopher Tkaczyk and Jia Lynn Yang. Research by Marilyn Adamo and Doris Burke.