Stocks drop more than 1% as oil spikes near $100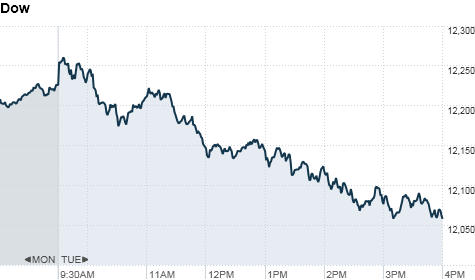 NEW YORK (CNNMoney) -- U.S. stocks tumbled Tuesday, with all three major indexes down more than 1%, as oil prices spiked to nearly $100 a barrel.
The Dow Jones industrial average (INDU) sank 168 points, or 1.4%, with Alcoa (AA, Fortune 500) and Caterpillar (CAT, Fortune 500) leading the decline. The S&P 500 (SPX) fell 21 points, or 1.6%, and the Nasdaq (COMP) lost 45 points, or 1.6%.
The sell-off came as oil prices for April delivery continued to head higher, climbing $2.66 to settle at $99.63 a barrel amid ongoing uprisings in Libya and the Middle East. In electronic trading, crude prices topped $100 a barrel Tuesday afternoon, after crossing that mark last week for the first time since 2008.
As crude climbed, gas prices rose for a seventh straight day. Meanwhile, gold prices surged $21.30, or 1.5%, to settle at a record high of $1,431.20 an ounce.
Tensions in the Middle East and North Africa will continue to cast a shadow on the market, said Matt King, chief investment officer at Bell Investment Advisors.
Investors also tuned into Federal Reserve Chairman Ben Bernanke's testimony on Capitol Hill. Bernanke warned that a sustained rise in oil prices could pose a danger to economic growth.
"Bernanke's comments reconfirm what the market's fear has been since the Libyan situation started," King said. "Bernanke hasn't been too concerned about inflation, especially in relation to high commodity prices, so this is the first time he's outlining a potential scenario with inflation."
Markets also came under pressure after the Securities and Exchange Commission filed a lawsuit against former Goldman Sachs (GS, Fortune 500) director Rajat Gupta for insider trading.
"It's just another hit to investor confidence, and it's scary to think about potential repercussions," said Dave Rovelli, managing director of U.S. equity trading at Canaccord Adams. "All this insider trading at hedge funds can make individual investors hesitant to come back to the market."
Investors are also looking ahead to the government's monthly payroll report on Friday, which will reveal how many jobs were created in February.
Despite a slight step back last week, stocks closed out February on an upbeat note -- posting their third-straight month of gains. Overall, all three major indexes were up nearly 3% during the month, and have risen more than 5% since the beginning of the year.
Economy: The Institute for Supply Management's manufacturing index rose for a 19th consecutive month, reaching 61.4% -- a level last seen in May 2004. The level signals continuing expansion in the sector.
Companies: General Motors (GM) said total U.S. sales rose 46% last month on an annual basis, while Ford's sales rose 14%. Shares of both U.S. automakers fell about 2%.
Shares of Japanese automaker Toyota (TM) slipped 0.5% after the company said sales rose 42% last month from a year earlier, when monthly sales fell 8.7% on recall problems.
Shares of Las Vegas Sands (LVS, Fortune 500) dropped 6.3% after the casino operator said that it has received a subpoena from the SEC requesting documents related to the Foreign Corrupt Practices Act. The company said it is also being investigated by the Department of Justice.
Shares of J. Crew Group (JCG) rose 1% after stockholders agreed to adopt the previously announced merger agreement with Chinos, an affiliate of private equity firms TPG Capital and Leonard Green & Partners.
World markets: European stocks closed lower. Britain's FTSE 100 lost 0.8%, the DAX in Germany fell 0.5% and France's CAC 40 declined by 0.7%.
Asian markets ended higher. The Shanghai Composite rose 0.5%, the Hang Seng in Hong Kong added 0.2% and Japan's Nikkei jumped 1.2%.
Currencies and commodities: The dollar rose against the euro, was weaker versus the British pound and firmer versus the Japanese yen.
Bonds: The price on the benchmark 10-year U.S. Treasury rose, pushing the yield down to 3.41% from 3.43% late Monday.