Save $50,000: Cut one big-ticket item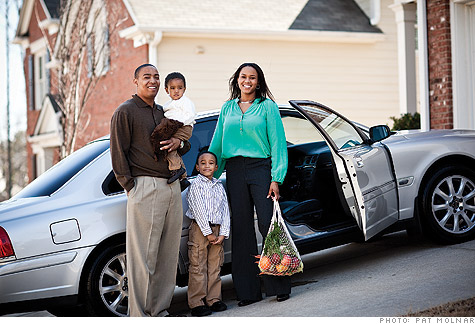 The strategy: Focus on a single large expense you can reduce or eliminate.
Years to $50,000: Seven

How they did it: Computer programmer Bonita Vincent, 33, and her husband, Derrick, a 35-year-old civil engineer, enjoy a nice set of wheels -- enough to buy a new car every few years. But after the couple had their second son in 2009, causing the family's child-care costs to double, the Vincents, who had just paid off the loan on their 2005 Volvo S80, decided to stick with the vehicle they had rather than borrow to buy new again.
Their savings: $700 a month in car payments they'd be facing if they'd bought a new model. When the old car was totaled in an accident last December, the couple stuck to their plan and bought another 2005 Volvo S80 for $14,500 -- their first used car -- which the insurance payout covered in full.
Buoyed by their savings on the car, the Vincents then embarked on a campaign to rein in a host of other everyday expenses: They refinanced their mortgage (monthly savings: $300), canceled their professional lawn care service, and swapped premium cable for a Netflix subscription.
With their newfound cash they've boosted contributions to their emergency fund as well as to their 401(k)s, and still have enough left over for occasional splurges on something every parent of small children dreams of: date night.
How you can do it: Downsizing to a smaller home saves the most money over time. But selling a home these days is tough and you'll incur steep upfront costs, not to mention emotional turmoil. For a simpler path to big savings, focus on your wheels. "Americans consistently overspend on their vehicles," says Philip Reed, senior consumer advice editor at Edmunds.com. "Do you really need a four-wheel drive or a car for every driver in your household?" Two ways to save:
1. Sell your second (or third) car.
The key question: Can you get by without the car by coordinating driving schedules with family members or taking public transportation? If so, eliminating your bill for insurance, gas, repairs, maintenance, and financing (if you don't own the car outright) could save you thousands every year.
2. Trade down to a cheaper model.
First figure out how much you spend on insurance, gas, and maintenance with the True Cost to Own Calculator at Edmunds.com. Then check out cars that are less expensive to maintain and insure), plus get better gas mileage. Over five years, you can save nearly $4,000 on gas alone by switching to a car that gets 30 miles a gallon vs. 20, assuming you drive the typical family's 15,000 miles a year. See how much you might save with a more fuel-efficient model with Edmund.com's Gas Guzzler Calculator.
The tradeoffs: Public transportation costs could lower your overall savings if you ditch one car and have to commute regularly by train or bus. You'll also need to coordinate driving schedules or carpool with family members. But hey, more time to bond with the spouse or teenage kids is a good thing, right?