Save $50,000: Kick costly habits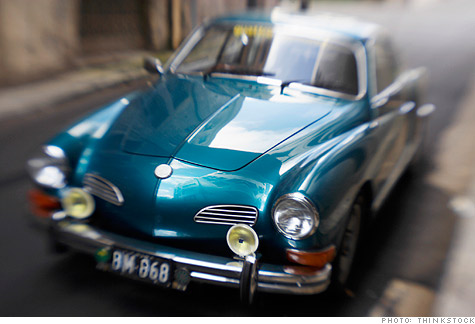 The strategy: Change your relationship to the stuff you buy.
Years to $50,000: Eight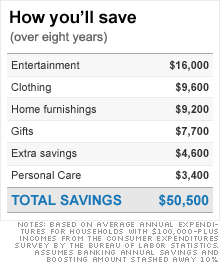 How to do it: Researchers at the University of Pittsburgh have found that impulse buying adds up to 30% of overall spending. Part of the problem: People subconsciously give themselves permission to buy more than they planned, padding their mental budget to account for the extra purchases they assume they'll make at the store. Stop making it easy on yourself to overspend with these behavioral tricks:
Look, don't touch.
Picking up that cashmere sweater or shiny new Android to examine it more closely increases your sense of ownership, according to researchers at UCLA and the University of Wisconsin at Madison. That makes it more difficult to resist buying.
1. Weigh your options.
Consciously ask yourself: Would I rather spend $100 on the cashmere sweater or save the money for a trip to Tuscany? Follow the lead of natural economizers who tend to focus on the opportunity cost of the cash they're tempted to part with, says Yale researcher Nathan Novemsky.
2. Make it tougher to spend.
Shop with a list, do a quick inventory of closets and cupboards before heading to the store, plan to pay in cash, and bring only that amount. Shoppers who pay in cash spend 10% to 35% less than those who pay with plastic, various studies have shown.
Mentally ballpark the total of your purchases as you're shopping, which helps you stick to a predetermined target, researchers at Cornell and Georgia Tech have found. Adopting smart shopping habits can help you cut discretionary spending on gifts, entertainment, clothes, personal care, and items for your home by a third, or $5,700 a year on average for households earning $100,000 and up.
3. Nudge yourself.
Creating separate savings accounts for specific goals and naming them -- vacation fund, holiday account -- makes it less likely you'll tap them for "unauthorized" purchases. To push yourself to save even more: Dartmouth researcher Jonathan Zinman has found that detailed reminders to save for a specific goal, via text, e-mail, or calendar alerts -- "Deposit tax refund in Roth IRA" -- can boost savings by 15%.
The tradeoffs: Go on too strict a spending diet and you may feel deprived, which can actually make you spend more. So allow yourself an occasional, well-planned splurge.