Save $50,000: Go to a public college first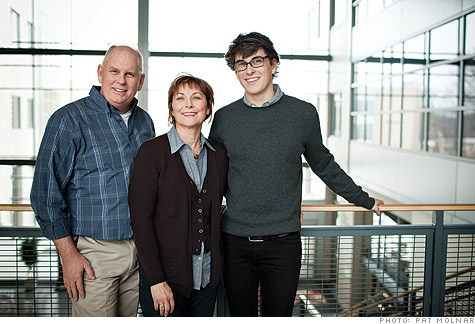 The strategy: Encourage your child to enroll at a state university or community college for the first year or two, then transfer to a private school.
Years to $50,000: Two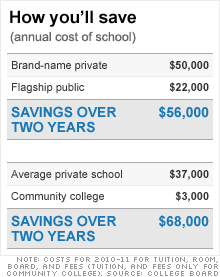 How they did it: Tyler Crowe, 18, had his heart set on going away to college when he graduated from high school last year, applying to Swarthmore and the University of Pennsylvania, among other elite schools. Cost: around $50,000 for tuition, room, and board.
Instead he's currently a student at nearby Howard Community College, where tuition runs just over $4,000 a year and most of the students, like Tyler, live at home and commute to school.
What happened? Tyler's parents, Patrick and Brenda, encouraged Tyler to follow in the cost-saving footsteps of his older brother, Chris, 23, who also went to HCC. The community college boasts a selective honors program that sees 94% of its students successfully transfer to four-year institutions within one or two years.
After three semesters, Chris was accepted to the prestigious Savannah College of Art and Design; he graduated last year with a degree in architecture. Total savings for the Crowes on their older son's undergraduate education: around $50,000 in tuition and housing costs.
Tyler, who has set his sights on transferring to Georgetown University next year, says he doesn't feel like he's been deprived of a college experience while at HCC. He enjoys the community college's small class sizes and even gets to row crew with the team at the University of Maryland, Baltimore County.
Meanwhile his mom and dad already have plans for the money they've saved on college for their boys: "Now we're able to afford to pay for graduate studies for both of our sons," Patrick says.
How you can do it: The typical private college charges $37,000 a year for tuition, room, and board, while over 100 institutions cost $50,000 or more. You can cut the price of a degree from these schools sharply by having your child start out at an in-state public college (average cost: $16,000), in-state flagship school ($22,000), or community college ($3,000 for tuition; no room and board for commuters). To improve the odds your child ends up at the college of her choice:
1. Be a smart matchmaker.
Pick a starter school that meshes well with her transfer goals. Community colleges often have arrangements with specific public and private four-year colleges, known as articulation agreements, that facilitate transfers to those institutions.
If your child is aiming for a more competitive private college, her best bet may be a flagship public school, which will offer more advanced courses than regional publics or community colleges, says Jim Miller, president of the National Association for College Admission Counseling.
2. Plan now for the switch later.
Have your child contact the private schools she's interested in to find out the course requirements for transfers, which will help guide the classes she takes as a freshman and sophomore. Also ask about GPA and other criteria that will make her a good candidate. "It will help your child's prospects to show interest early on," says Miller.
The tradeoffs: Transferring can be a social challenge, since your child will be a newcomer among classmates who have already made friends. Also, the most elite schools take very few transfers: Princeton accepted none and Dartmouth only 4% of applicants last year, although the University of Pennsylvania did take 20%.
But rates change from year to year, and overall, transferring has gotten a bit easier lately as many private schools are losing students due to high costs.