Save $50,000: Move to a cheaper locale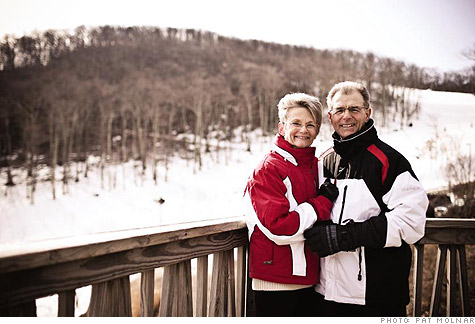 The strategy: Relocate to a less expensive area.
Years to $50,000: Five
How they did it: Several years ago Lynn and Larry Luessen, now 62 and 65, built an idyllic four-bedroom second home at Virginia's Wintergreen Resort, 110 miles away from their three-story townhouse in Fredericksburg, Va.
But as Larry, an engineer, neared retirement, he and Lynn, a former teacher, worried they couldn't afford two mortgages. So in 2008 they sold the townhouse and moved to Wintergreen year-round; Larry commuted to his office once a week and stayed in a hotel overnight until his retirement last year.
The savings were huge: Their living expenses dropped by $1,900 a month without the mortgage, HELOC, taxes, insurance, and association fees, even after accounting for monthly gas and lodging bills of $450. That's not including the $4,500 annual country club membership they canceled or the $300 monthly payments they erased by paying off their car loan with proceeds from the sale.
Life couldn't be better -- or cheaper -- for the Luessens, who are avid skiers, golfers, and tennis players. Says Larry, "All the things we used to pay extra for are here, no extra cost."
How you can do it: One in five people who moved last year were motivated by a lower cost of living, according to a Moving.com survey. But finding a place that suits your family as well as your finances takes some legwork. Steps to take:
1. Narrow the search to three.
This is an opportunity to really rethink the kind of place you'd be happiest living in. Create a short list, focusing on low-cost communities that combine solid job opportunities and fiscal strength (that translates to lower taxes) with affordable homes and good schools. For ideas, check out the National Association of Home Builders' quarterly rankings of affordable metro areas; and MONEY's list of Best Places to Live.
Likeliest locales are in the South and Midwest, where typical homes cost $150,000 vs. $250,000 in the Northeast and West. Hot prospects: High-tech mecca Raleigh, N.C., where the median home price is $209,000 and schools are among the highest rated in the state, and Austin suburb Round Rock, where a typical home costs $205,000, unemployment is under 7%, and schools are top-notch.
2. Line up your paycheck.
With unemployment around 9%, uprooting to a faraway place makes the most sense if you can land a new job first or have some flexibility with your current job -- for instance, if your employer has an office somewhere you want to transfer or you can telecommute.
"Even in a bad job market, good talent is hard to find, and with technology today, more companies are becoming flexible about where employees do their job, especially top talent," says Margery Marshall, president of Vandover, a global relocation services company.
Among the best cities for telecommuters, says 7th Sense Research: Kansas City, Mo., where median homes prices are around $140,000; Raleigh and Austin rank highly too.
3. Ask the key question.
Once you've got a top contender, visit with your family, and ask everyone you meet: What's the most surprising thing many people don't know about this town? If the question elicits a litany of complaints, well, you've been warned.
Positive responses are most important if the specifics resonate with you. If, for example, you're an outdoorsy family and residents rave about the parks, lakes, and hiking trails, you may have found your winner.
The tradeoffs: Selling your current home may be tough. Relocating involves some steep one-time bills, including moving expenses, typically $1,500 to $3,000 for a three-bedroom home, says Serena Norr, managing editor of Relocation.com. Factor in the price of periodic trips back if you're leaving family behind.