Save $50,000: Chop your mortgage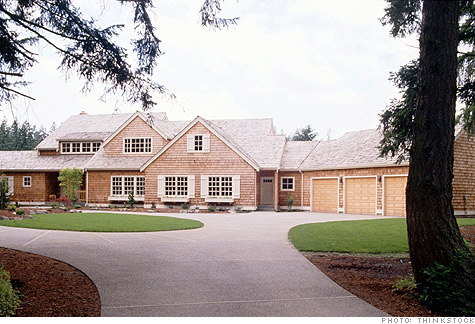 You may think you've done it all: You're careful with a buck, don't overindulge, and stash away as much as you can for future goals. But while it may not seem as if there's any more you can comfortably squeeze from your budget, there are ways to save more -- 10 pretty painless ways, in fact, to save $50,000 or more in almost every aspect of your life, from your everyday bills to your taxes and investments.
The strategies that follow will get you to that goal in two to 10 years, without impinging on your quality of life. Some need only one or two moves; others, several steps. A couple require making big changes, but most don't. What all 10 have in common: They'll put a lot more cash in your pocket -- money you can, no doubt, put to very good use.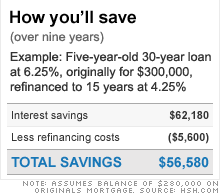 Strategy #1: Refinance a 30-year mortgage to a 15-year loan.
Years to $50,000: Nine
How to do it: You should move fast: While rates are still historically low, they've risen about half a percentage point since hitting bottom last fall and could rise another half a point later this year, according to forecasters.
But nabbing a lower rate by itself won't yield enough savings to get you to $50,000. To really slash interest costs, you also have to reduce the term of the loan. Answer these questions to see if this strategy is right for you:
Can you swing higher payments?
You'll save 60% more in interest by refinancing to a 15-year rather than a 30-year loan at recent rates -- 4.3% for a 15-year vs. 5.1% for a 30-year loan. But your monthly payments will also rise, as you pay back more of the principal over a shorter term.
For the specifics in your situation, use our refinancing calculator.
"If your current rate is above 5% and you don't expect to move for at least three years, it pays to make an inquiry with lenders," says Frank Nothaft, chief economist for Freddie Mac.
On a $280,000 refi of a 30-year loan with 25 years left on it, your payments would rise $260 a month but you would save nearly $175,000 in interest and pay off your mortgage a decade sooner.
Is there a better alternative?
Can't swing the higher payments? Look instead at a 20-year loan, which will get you close to the goal: At recent rates around 4.9%, you'll save $44,000 over 10 years on that $280,000 refi and $115,000 over the life of the loan, while cutting your monthly payments by $18. But not all lenders offer 20-year loans. Plus, rates vary more than on 15-year loans and are closer to current rates on a 30-year.
Do you have enough equity?
You should have no problem refinancing if you have at least 20% equity in your home. With less than 20%, some lenders won't approve a refi, or they'll require private mortgage insurance, which will add to your monthly costs. To see how much, use this PMI calculator.
The tradeoffs: Don't want to go through the hassle and expense of refinancing? Switching to biweekly payments may be the answer: On the loan in the example above, you'd save $49,000 in interest and cut four years off your repayment period.
Click here to see the remaining nine strategies.