Save $50,000: Do your own home maintenance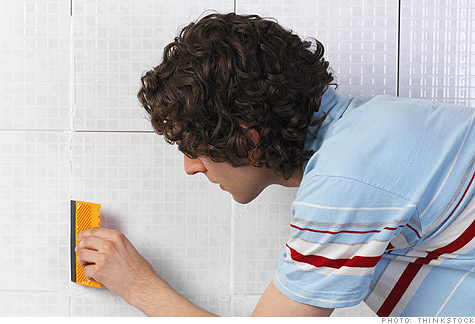 The strategy: Ditch the pros and tackle routine outdoor maintenance and energy-saving chores yourself.
Years to $50,000: 10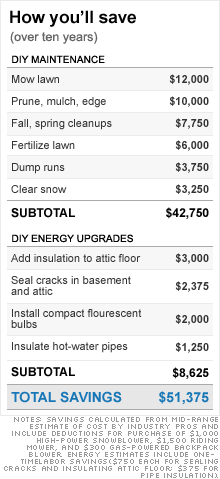 How to do it: It's not the big DIY jobs that yield the greatest savings, it's the little ones. For most people, remodeling your own kitchen or even retiling your own bathroom floor would be as cost-effective as doing your own dental surgery.
Routine, low-tech projects are a different story; paying professionals to do chores you can do perfectly well yourself is akin to hiring a hygienist to brush your teeth every night. Two types of tasks within any able-bodied homeowner's wheelhouse:
Outdoor maintenance.
Removing snow, mowing the lawn, and doing basic landscaping requires little skill. And though the DIY savings may be modest per mow (typical range: $30 to $70), snowplow ($10 to $30), or yard cleanup ($400 to $600 for fall cleanup, half again as much in spring), the costs really add up over time.
Tackling those jobs, as well as fertilizing the lawn, taking your garbage to the dump (if your town doesn't provide pickup), and pruning and mulching your own landscape should save about $4,600 a year on average.
One-time energy upgrades.
Minor do-it-yourself energy retrofits take a bit more effort, but you have to do them only once, and they'll pay you back with reduced utility bills year after year.
Rolling out a layer of added insulation on the attic floor will cut your fuel bills by $75 to $375 a year; spraying foam into cracks and crevices in the basement and attic can yield another $75 to $250. Add in two super-easy jobs -- installing simple pipe insulation on your hot-water lines and compact fluorescent bulbs in your light fixtures -- for an annual payback of $700 on average.
The tradeoffs: You'll have to give up some weekend time to get the tasks done. But you can get the work completed faster, eliminate blisters and backaches, and make it almost fun by investing in some high-grade power equipment, such as a riding mower (about $1,500) and snowblower ($1,000).
These eat slightly into your savings but should enable you to do the job as much as 10 times faster.